Exhale ventilator bez lopatica – Kako funkcionira?
Stropni ventilator bez lopatica
Exhale je jedini ventilator bez lopatica. Radi na jedinstvenom, patentiranom principu – usisuje zrak ispod i raspršuje ga pod 360° po prostoriji. Zrak se tada odbija od zidova i kreira osjećaj ugodnog povjetarca. Osjećaj ugodnog povjetarca osjeća se u cijeloj prostoriji (ne samo ispod ventilatora kao kod klasičnih ventilatora). Vaša kosa neće letjeti, nećete imati neugodan osjećaj propuha, već ćete osjetiti ugodan povjetarac po cijeloj prostoriji. Exhale ventilator je diskretan, tih i ne troši puno električne energije. DC motor bez četkica i izostanak lopatica smanjuje frikciju zraka i buku. Brzo ćete zaboraviti da je ventilator uključen i ostaviti ćete ga da radi još dugo vremena.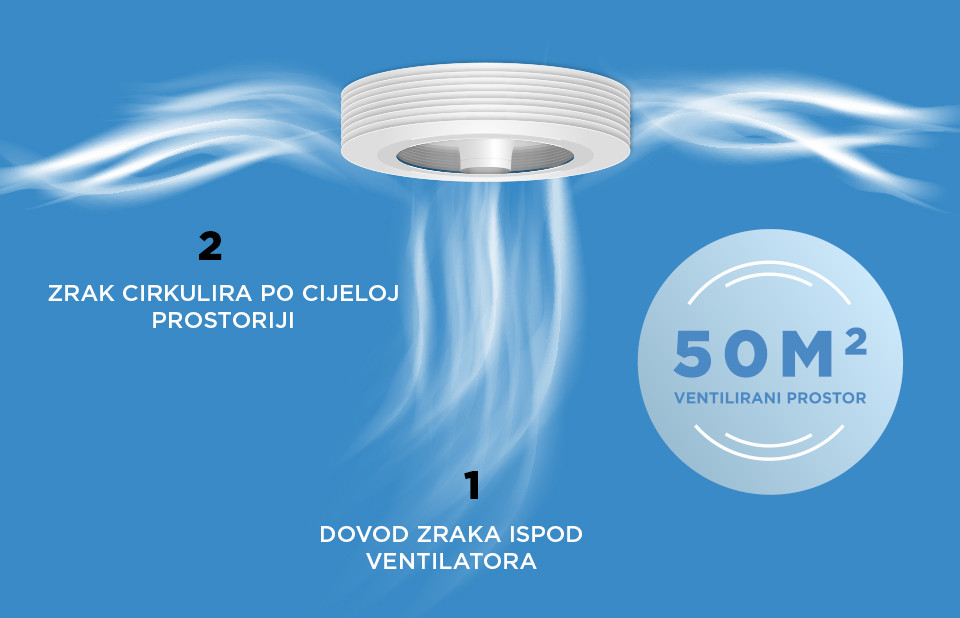 Tijekom cijele godine
Alternativno rješenje za klimatizaciju koje donosi ugodu u vaš prostor tijekom cijele godine:
Ljetna udobnost:stvara ugodan povjerac u cijeloj prostoriji i smanjuje osjećaj vrućine za najmanje 4 stupnja zbog pojačanog znojenja kože.
Zimska udobnostmješa različite temperaturne slojeve koji se prirodno stvaraju u prostoriji (topli zrak zadržava se u razini stropa dok se hladniji zrak ostaje u razini tla). Zahvaljujući stalnom protoku zraka Exhale ventilator će izjednačiti temperaturu u prostoriji.
Može se kombinirati uz klima uređaj ili sustave za grijanje zahvaljujući boljeg protoku zraka po cijeloj prostoriji. Mnogi naši kupci koriste Exhale ventilator tijelom zime uz kamin ili peć na način da šire topli zrak po prostoriji. Američka studija sa (Purdue University-) a pokazala je kako se potrošnja grijanja i klima uređaja može smanjiti za 38% zahvaljujući upotrebi Exhale ventilatora.
Do 38% manja potrošnja električne energije
Temperatura u prostoriji obično je u slojevima: topli zrak zadržava se u razini stropa dok se hladniji zrak ostaje u razini tla. De-stratifikacija je ta koja miješa slojeve kako bi se temperatura izjednačila. Exhale će de-stratificirati takve slove vrlo učinkovito.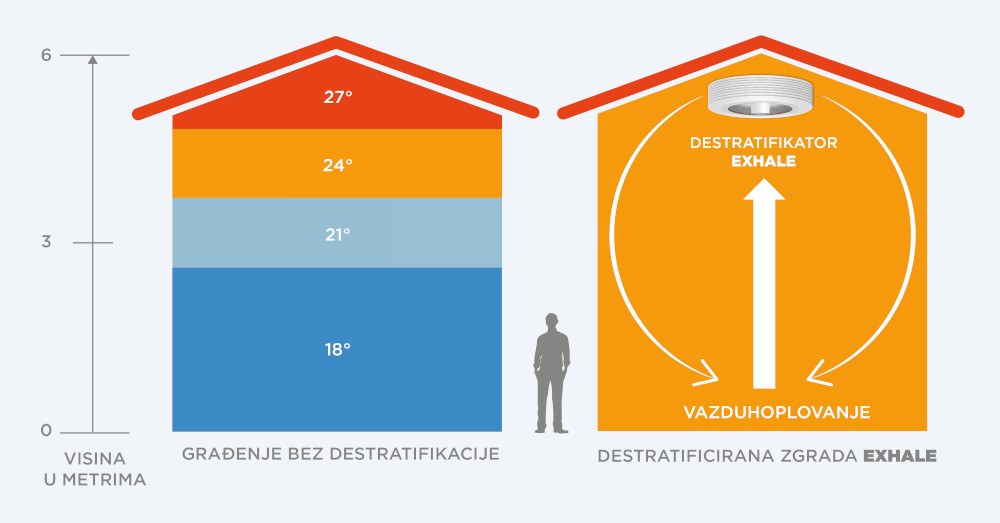 Primjena
Spavaće sobe (uključujući i dječju sobu)
Dnevni boravci
Škole
Gradske vjećnice
Knjižnice
Održive zgrade
Jamstvo
Naše su komponente visoke kvalitete što pokazuje i naše 5-godišnje jamstvo na cijeli ventilator (uključujući diskove, motor, daljinski upravljač i svjetlo).
Exhale
Exhale fan is stylish with spherial shapes and sleek lines, with no visible screw
Conventional fan
Classic «colonial» type fan with blades
Exhale
the fan is able to achieve a unique VORTEX flow by drawing air from below and returning it in a 360-degree direction for total ventilation throughout the room
See in video
Conventional fan
Blow of air in column only under the fan
Exhale
Brushless DC engine (direct current) with a maximum rotation speed of more than 300 rpm, silent (40 DB) and a circulating air volume of 115 m3/min.
Conventional fan
AC (alternating current) engine is more economical but noisier and greedy in terms of energy.
Exhale
Diameter 86 cm / thickness 18 cm only.
Conventional fan
Diameter 70 à 145 cm / thickness 25 à 45cm.
Exhale
Silent and almost imperceptible (between 30-40db)
Conventional fan
Noisier due to the friction of the blades in the air.
Exhale
In destratification mode, speed 1, the Exhale fan consumes only 4 watts, 10 to 20 times less than a conventional bulb.
Conventional fan
AC engine (alternating current) consumes 80% more energy than a DC engine.
Exhale
a fan is able to cover a 50m2 room with an even floor/ceiling temperature for ceiling heights up to 7 meters. Ideal for high ceilings with mezzanine.
Conventional fan
a conventional fan covers a room of maximum 35m2, beyond that limit a second fan is required.