Exhale fläkt utan blad – Hur fungerar den ?
Takfläkt utan blad
Exhale är den enda takfläkten utan blad.
Den fungerar med en unik patenterad princip :
Den suger upp luften under sig för att sen skicka ut den i hela rummet i 360 graders omkrets.
Luften studsar sedan mot väggarna för att ge en omsväpnande känsla.
Det blir en lätt och behaglig ventilering som en bris i hela rummet (inte bara rakt under fläkten).
Håret blåser inte iväg, man känner ingen hård vind direkt på sig men en lätt vindpust som kommer lite överallt ifrån (360° ventilering och studsar mot väggen).
Exhale fläkten är väldigt diskret, ohörbar och förbrukar mycket lite energi. DC Brushless motorn och frånvaron av blad minskar nämligen friktionen och ljudet med luften.Ni glömmer snabbt ert fläkt och kan ha den på i flera timmar utan problem.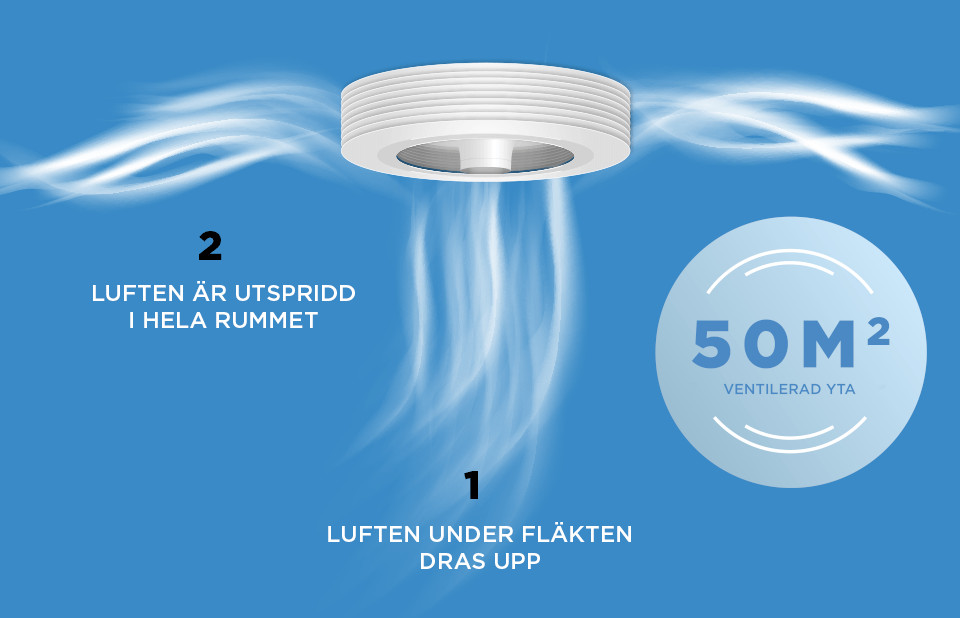 Hela året runt
Den placeras som ett långvarande och trovärdigt alternativ till luftkonditionering med att ge komfort året runt åt användaren.
Sommarkomfort: Under sommaren ger den komfort och en ventilering i hela rummet som gör att värme känslan minskar med ungefär 4 grader tack vare en bättre evakuering av svetten från huden.
Vinterkomfort: Under vintern ger den komfort genom att fördela luften genom att söndra de naturliga temperaturstraterna i rummet (värmen stiger mot taket medan kylan hålls vid golvet) och jämna ut den varma luften i rummet.
Den kombineras lätt med andra värmeelement eller luftkondtionering, eftersom den gör dom mera effektiva, tack vare en bättre luft rörelse i rummet. Många av våra kunder använder den för att sprida ut värmen från en värme panna och den kalla luften från en luftkonditionering. En Amerikansk studie (Purdue Universitet, Illinois) har visat att energi förbrukningen på värme och lufkonditionering kunde minska med upp till 38% tack vare Exhale fläkten.
Spara upp till – 38% energi förbrukning
Rums temperaturen är vanligtvis ordnad i flera lager : vid taket är luften varmare medan det är kallare vid golvet. Med stratifieringsutjämning går dom här lagrena sönder. Med sin unika luftrörelse jämnar Exhale fläkten ut temperaturen i hela rummet, från tak till golv.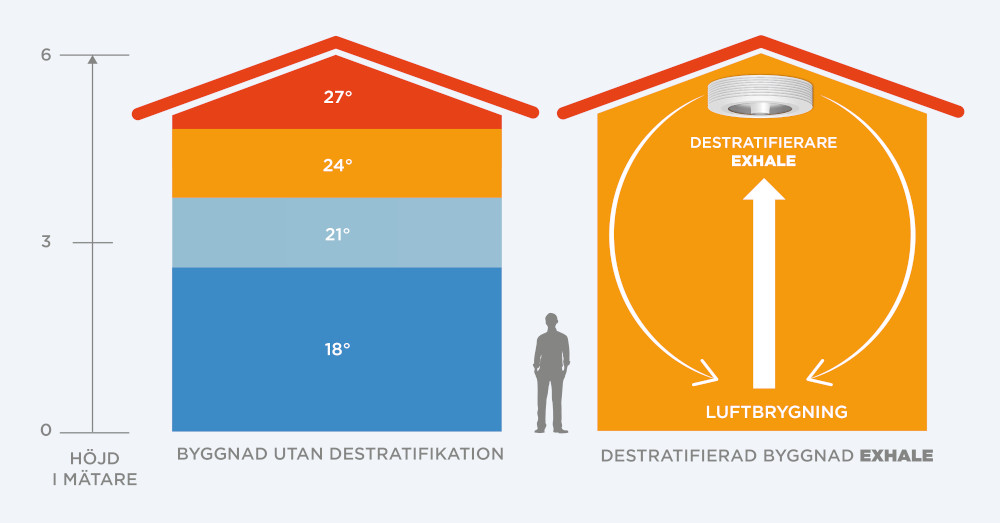 Användning
Sovrum (också barnens)
Vardagsrum
Skolor
Stadshus
Bibliotek
Nya byggnader
Garantin
Den höga kvaliteten på alla delar i fläkten gör att vi kan ge en 5 års garanti på hela fläkten (också skivorna och motorn), fjärkontrollen och LED lamporna.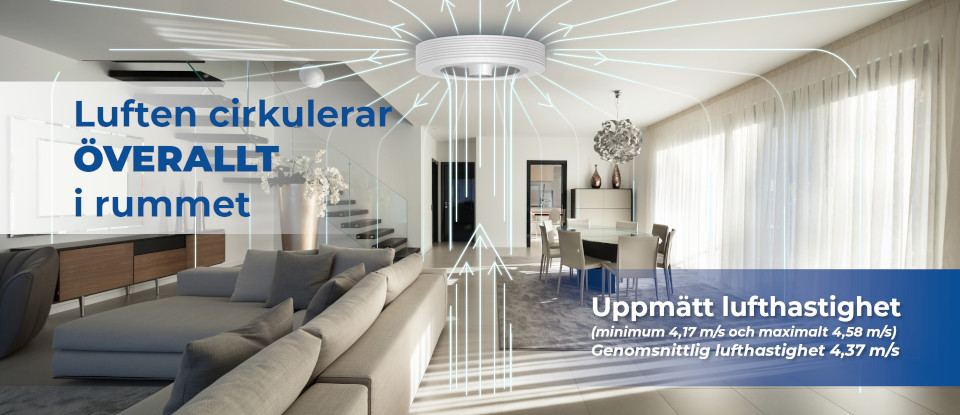 Exhale
Exhale fan is stylish with spherial shapes and sleek lines, with no visible screw
Conventional fan
Classic «colonial» type fan with blades
Exhale
the fan is able to achieve a unique VORTEX flow by drawing air from below and returning it in a 360-degree direction for total ventilation throughout the room
See in video
Conventional fan
Blow of air in column only under the fan
Exhale
Brushless DC engine (direct current) with a maximum rotation speed of more than 300 rpm, silent (40 DB) and a circulating air volume of 115 m3/min.
Conventional fan
AC (alternating current) engine is more economical but noisier and greedy in terms of energy.
Exhale
Diameter 86 cm / thickness 18 cm only.
Conventional fan
Diameter 70 à 145 cm / thickness 25 à 45cm.
Exhale
Silent and almost imperceptible (between 30-40db)
Conventional fan
Noisier due to the friction of the blades in the air.
Exhale
In destratification mode, speed 1, the Exhale fan consumes only 4 watts, 10 to 20 times less than a conventional bulb.
Conventional fan
AC engine (alternating current) consumes 80% more energy than a DC engine.
Exhale
a fan is able to cover a 50m2 room with an even floor/ceiling temperature for ceiling heights up to 7 meters. Ideal for high ceilings with mezzanine.
Conventional fan
a conventional fan covers a room of maximum 35m2, beyond that limit a second fan is required.