Exhale bladeless fan – How does it work?
Bladeless ceiling fan
Exhale is the only bladeless fan. Its principle is unique and patented – it sucks the air under it and hurls it out at 360 ° around the room. The air then hits the surrounding walls and creates a wrapping effect. You end up by having a nice breeze in the whole room (not just under the fan like the usual ones). Your hair is not sucked up, you don't have a nasty draft but more like a breeze that comes from all over. Exhale fans are discreet, hush and don't use much energy. The DC Brushless motor and the absence of blades reduces friction et air noises. You will quickly forget the fan is turning and you will leave it running for a long time.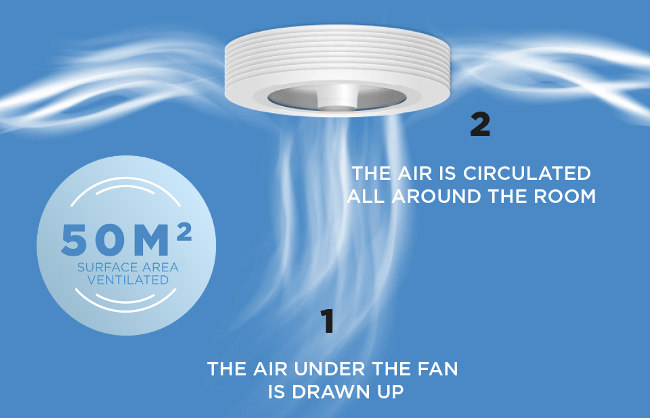 All year long
An accurate alternative solution to airconditionning that brings you long lasting comfort all year round:
Summer comfortit creates a sweet breeze in the room that reduces the effect of warmness of at least 4 degrees due to better evactuation of skin perspiration.
Winter comfortit mixes the various layers of temperature (de stratification) that are naturally created within a room (hot air tends to stay at the ceiling while cool air stays on the ground level). Exhale will even the temperatures from floor to ceiling thanks to the constant stirring of the air.
It can also be combined with AC or heating devices thanks to a better stirring of the air in the entire room. Many of our customers use their Exhale in the winter to spread the hot air generated by a fireplace or a stove. An American study (Purdue university) has proven that heating and Ac expenses could be reduced by up to 38% while using an Exhale fan.
Up to 38% less energietic expenses
The temperature inside a room is usually in layers : the air on the ceiling stays warm while griound air stays cold. De stratification is a mixing of those layers for an even temperature. Exhale will destratify those layers very efficiently.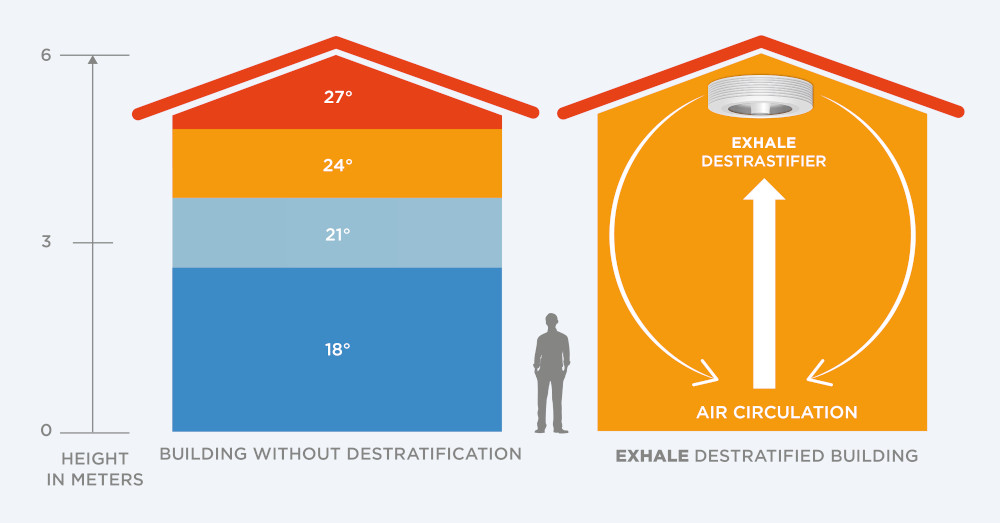 Applications
Bedrooms (including children)
Living room
Schools
Town hall
Libraries
Sustainable buildings
Warranty
Our high quality components allow us to provide you with a 5 years warranty on the whole fan (including disks, motor, remote and light).