Customer reviews
Testimonies and reviews of the Exhale users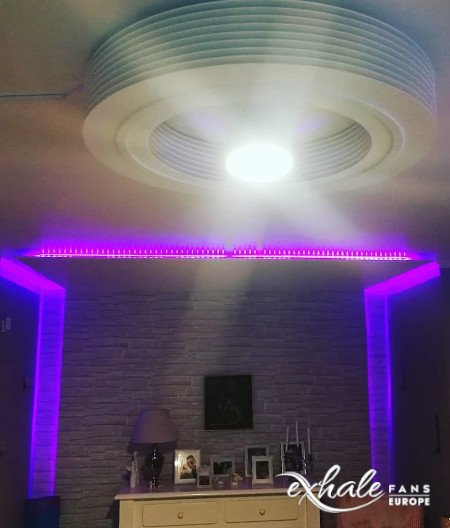 I received my Exhale ventilator today and I'm absolutely thrilled. The really simple assembly can be done by anyone who dare to attach a lamp. The result is a slight breeze across the room. It feels like sitting by the sea. Thanks to @exhalefanseu for this great product.
www.instagram.com/p/CESEAYsltfn/ Martin W.
We just installed your fan, finally.
The wait was long but it was well worth it (order placed in January).
We are excited about your product, the quality is there, the brightness is tip top, in a word great product.
Our friends loved your product and orders may follow soon. Cédric M.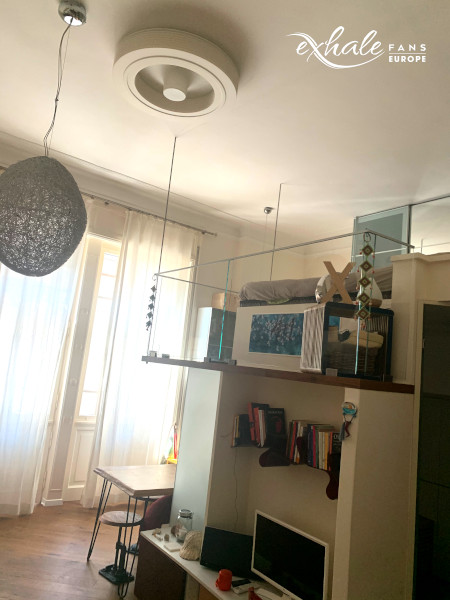 Installed ! It fits perfectly and it's fantastic to cool my mezzanine ! Thanks a lot for your assistance. Alessandra
Our fan arrived and it is fantastic. We are very very pleased and the wait was well worth it! Laura O'L
So happy to have received and installed the "UFO" fan as my friends say …
I am delighted with the product and have zero negative comment to make. It is really very good.
Thank you again for having had the idea to market this product (too bad it is not French).
Best regards Marie-Hélène B
I am very impressed by your efficiency in sending me the exhale fan so quickly, in spite of the current problems.
It arrived today, the electrician had time to mount it and it is now up and running perfectly.
Many thanks. Christine G.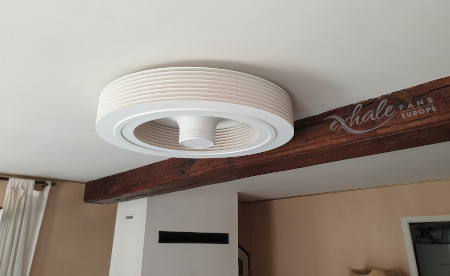 I had a closed wood fireplace installed in 2018. I quickly realized that when it heated, the heat stagnated on the ceiling. I looked for a solution and found the Exhale ceiling fan. It is really the best, a good mixing of the air, which allows to have a homogeneous heat. And little more for the very hot summers of now, a refreshment without having an excessive draft in the eyes as with a traditional fan. I do not regret my investment.
Thanks Exhale.
www.facebook.com/fabrice.r*****/posts/10216930786572270
Fabrice R.
We have this exhale fan for about three weeks now, and we have to say that we would not have thought that this device would cool our entire room so nicely.
Our living room is approximately 38 square meters and this summer is very warm.
We are already thinking about whether to have another one in the sleeping area.
We can only recommend this exhale.
Sure, it's not cheap, but it's worth the money
Ps: at first we were afraid that everything would work out without issues, because he comes from abroad (France when we are in Germany), everything was only handled via the internet, but the supplier always replied quickly and everything went correctly (correspondence and shipping).
Thank you again for a great process and we wish you good business. Berndt T.
Hi Hans,
Well the Fan is in use and we love it! Delicious little cooling, silent, really great ………. We are happy with it!
Thanks again for your help, otherwise he probably wouldn't have been here haha!
Sunny greetings,
Inge Inge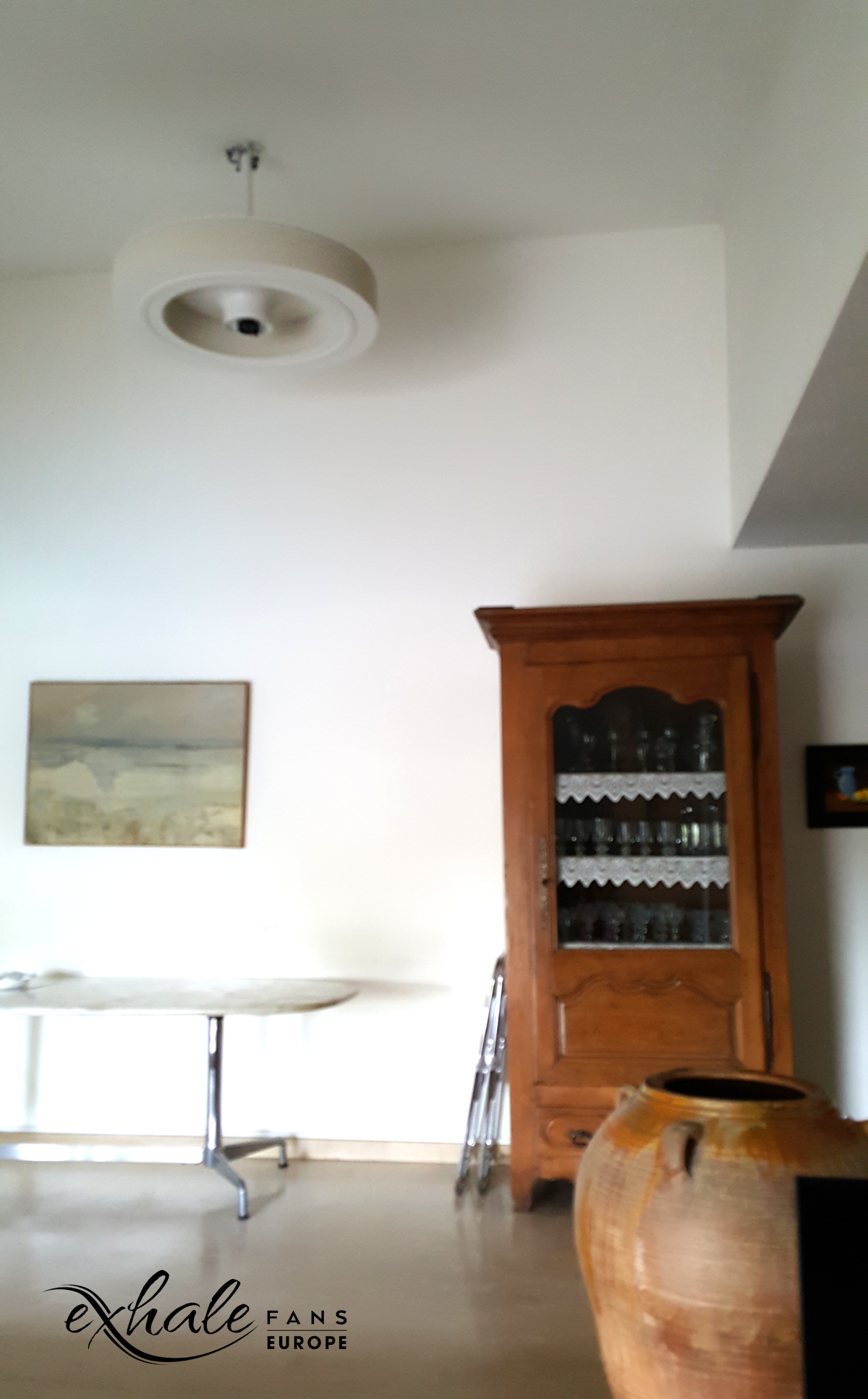 I am very happy with the effects from my Exhale fan: the air is circulated in a very discreet, almost silent way (for level 3 used), we do not realize the presence of the fan, simply we feel good without knowing why. The felt air temperature is lowered by several degrees. It should also be noted that the room is anything but square, with a sloping ceiling and quite large (around 40m²) with no separation from the entrance hall and the upstairs staircase. Despite this, the air is well diffused everywhere. Monique R.
The fan works better than advertised. Normal fans you feel the air blowing straight down and it is a strong breeze. This fan truly circulates the air around the entire room.
The fan is a great addition to our newly renovated living room, makes no noise and looks amazing. Installation was also a "breeze" taking less than 20 minutes. Keith
Our customers (public schools & buildings) are very satisfied with exhale fans, they like the air breeze that feels like a soft marine breeze.
From our professional side, despite a long delivery, we underline the reactivity of the European distributor, with a proper after sales service for a premium product.
Respaut general Electricity SARL RESPAUT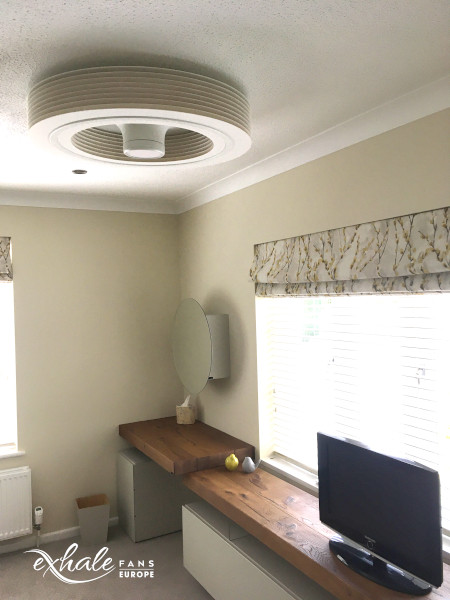 Really pleased with the overall look if the room and how quiet the fan is. Raymond D.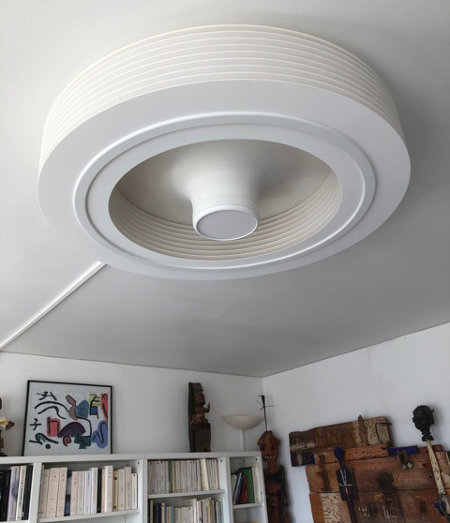 This Friday I received the Exhale bladeless fan that I ordered on Wednesday! I have just installed it and enjoy the cool effect which it creates and the fact that it is silent. Gérard G.

Looks great and is practical! Marc G.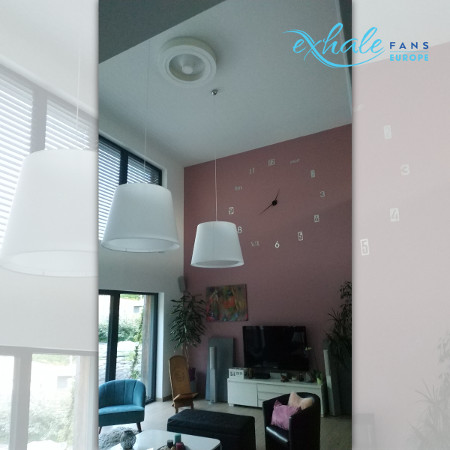 Here is a photo of my installation in my living room where this superb fan has found its perfect place and use. Joffrey M.
Our living room with mezzanine and cathedral ceiling was impossible to heat on the ground floor and was an oven on the upper floor. We have had the Exhale fan since last winter : pleasant temperature on both levels. Added to which the manager was open to our concerns. Recommended. Severine M
We bought this product in June 2017 and are so satisfied with it that we are going to buy a further one for this summer 2018. At the time of our first purchase, contact with the Exhale manager was very pleasant, professional and reactive. Delivery to Switzerland presented no problems. We regularly enjoy the cool atmosphere that the fan creates, without being disturbed by the unpleasant flow of air from a traditional fan and all that in total silence. What a pleasure! Thanks to all the team. Chris R
Good morning,
So I have tried and installed this new product: the EXHALE, the new generation fan.
I am very happy with this purchase, for several reasons:

Noiseless
No "unpleasant" rotation to watch like the old fans with blades
Cool look… a lot of my friends were surprised by the design
Very efficient optional light which is not simply a gadget
Diffusion of the air very gentle and homogenous
The cherry on the cake : the remote control is very practical and simple to use.
I highly recommend this product Olivier B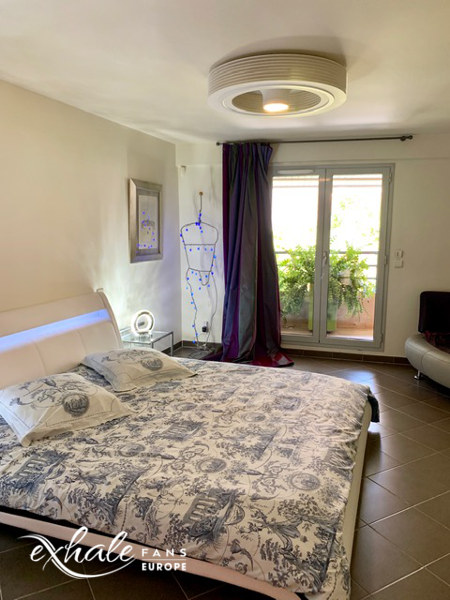 It's a super fan, the excellent distribution of air is impressive. We are delighted and surprised by the elegance and quality of this product and also the absence of noise. Christophe P.
Super nice fan and excellent service from Exhale! I am very happy with this! Wil E.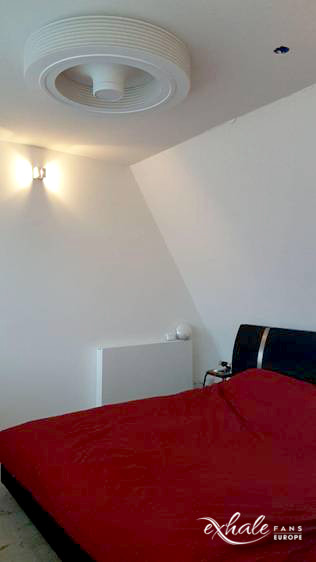 We are very happy with the cool effect and quasi-silence! The fan is installed over our bed and gives us the sensation of a pleasant breeze, without being a disturbance as would a normal fan. Superb! Daniele C.
With the arrival of the heat wave, we have been sleeping with the Exhale fan on in the bedroom. We put it on speed 2, practically noiseless with very pleasant total cooling breeze effect Pierre
Delighted with my purchase. Product adequate in my room – very high panelled ceiling – which allows the warm airflow to be directed down, so the room is perfectly temperate! The airflow can be reversed if required. Extra gentle, silent air distribution. I chose the model with "warm white" lighting, with adaptable light intensity: the best! Magnificent design, perfect packaging. Mariette T
I bought this article at the beginning of September, quick delivery, easy to install, very quiet, very even ventilation, very low consumption and with the option of the variable LED lighting, is really very good. This product is really the best of the best. Added to which the reception and professionalism of Exhale Europe is excellent. Thank you.
Source : www.facebook.com/tlelous/posts/1739230816119497:0 Thierry L
While doing some remodeling and looking for ideas, my wife stumbled across exhalefans.com. after watching some videos and getting more information, she decided she wanted one. I on the other was against it. Of course, being married, I lost the battle. Today, our fan was finally installed. All I can say is WOW. Myself along with my contractor were completely amazed with the airflow this fan puts out. I highly recommend for people to put out the few extra dollars and be happy. An added bonus is the doesn't hang down low. No swaying or ducking to avoid running into low hanging fans David

A BIG thanks to the folks at Exhale Fans! Wonderful product, easy install! Total time spent installing from dropping the old fan to installing the Exhale? Only 25 minutes! – Martin Martin
Add your testimony!
We do not publish your personal information such as your name or your contact details.