Customer reviews
Testimonies and reviews of the Exhale users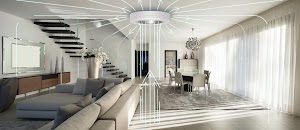 Based on 50 reviews
Domagoj Klepac
23:13 27 Sep 20
Exhale fan is the best fan I've ever felt. Due to the rather low ceiling I have, traditional fans were simply not an option, and besides, Exhale fan blows all of them out of the water on the looks alone.It produces a pleasant light breeze that feels like being outside. It's felt throughout the room without being unpleasant or focused in a single spot. I'm using it with floor/wall heating/cooling, and it's a great combination in both summer and winter months. Typically, floor cooling is of not much use during summer since cold air doesn't rise well (it cools just your feet), and I wasn't expecting to actually use it, but this fan mixes air so well and so uniformly that it's actually a superior alternative to air conditioning. It goes without saying that it's perfect for slowly moving warm air around during winter months; it's like it was made specifically for amplifying radiant heating.Fan is extremely quiet; at the lowest speed I can't tell if it's on or off unless I'm directly (about 1 m) below it. Sometimes it's hard to tell even visually, as it has only a very slight wobble and no blades to look at. The highest speed is louder, but not unpleasant.The wait after the order was significant (a few months) as I ordered gen4 before it was available. I believe this is not an issue nowdays as the current generation is in stock. The unit I received innitially was defective, it didn't respond to a signal from a remote, and they sent me a replacement motor free of charge. They were also very accommodating when my contractors misplaced the LED module before installation and sold me an extra LED module for a small fee.Regarding LED light, it works well enough, even as a reading light (at maximum brightness), although I'd personally prefer a dedicated reading light. Don't expect it to replace a big chandelier with a lot of lumens. Be aware that it won't illuminate the ceiling itself (it's a downlighter), so you can optionally combine it with indirect ceiling lights for a good effect. It will illuminate a room of up to about 20-25 m2, but especially for larger rooms, I'd use additional lights, especially near the walls. Oh, and unless you use other cold lighting in the same room for some reason, I recommend warm white version.All in all, I'm extremely satisfied with my purchase. I would not consider any other ceiling fan in the future.
Keith Gologorsky
16:14 15 Sep 20
Fans are fantastic. Pierre has been great to work with, the fans are super quiet, work better than can be imagined and took less than 30 minutes to install. Every person coming to our house have been amazed out how well they operate and how modern and sleek they look. Here is a pic of just 1 of the 5 we have in our house.
See All Reviews
Having a cathedral ceiling with a mezzanine, I had a big temperature difference between the ground floor and the first floor (about 5-6 degrees). Moreover, my main heating system is a pellet stove so the heat rises quickly and stagnates at the ceiling. Since the fan is installed, I use it mainly for destratification, the temperature difference is divided by 2! There are 6 speeds but I leave it only in speed 1. Moreover, it is beautiful, the integrated light on variator is a plus (an option which compared to the low price of 10€ is very interesting), ultra silent in low speed (1 and 2) on the other hand of the 3 to the 6 one hears the stirring of the air thus a blowing but these speeds are to be used to have an effect of fresh air which in my case is not my objective. I would say that to improve the product, it would be necessary to have a temperature sensor so that it starts automatically at a given set point (for example 25 degrees) and would stop automatically once a temperature delta is reached. To conclude, I do not regret my purchase, it considerably improves comfort and also allows me to make savings in terms of pellet consumption because the stove's set point is reached more quickly (20 degrees for my case).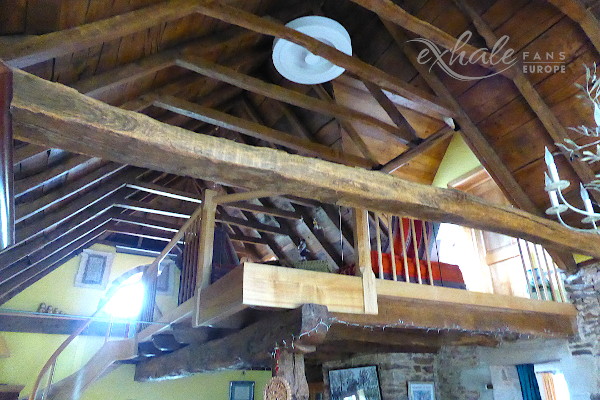 I am writing to let you know how pleased we are with the Exhale ceiling fan.
We had a delay in its installation, which only took place at the end of January 2022, because we had to deal with the frame of our barn. A small beam had to be installed between two rafters of the roof structure because, despite the tilt foot, the diameter of the fan did not allow for its installation.
The carpenter and then the electrician had to be called in to install the fan.
We are pleased with the result, as soon after the insert was put into operation, we had an even temperature in the large volume of our barn.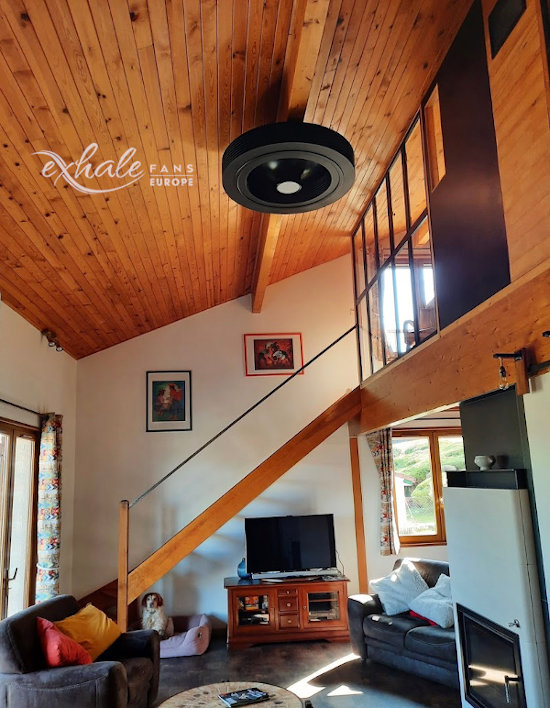 We installed the Exhale fan a few days ago. The cooler temperatures of the last few days gave us a good opportunity to test the fan. We had a problem with heat distribution in the house, which has a mezzanine, a half floor and a back room. Thanks to the fan, the heat is much more homogeneous and the differences between all areas of the house have been drastically reduced. In addition, the telephone reception is very pleasant. I can only recommend this product and this company.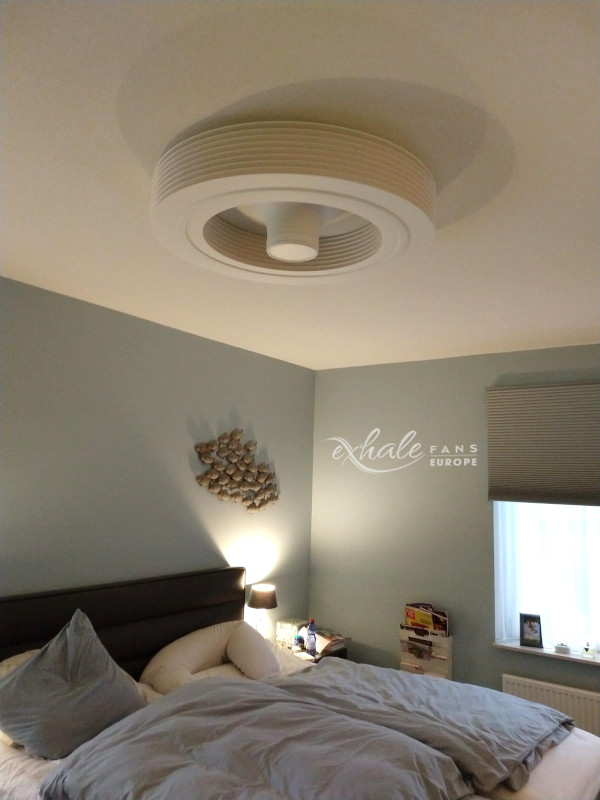 The fan was installed today by the electrician. We are satisfied by the design and the operation. We appreciated the customer service and the white gloves delivered with the machines!
Very simple installation, beautiful design and award winning effectiveness. I installed it in my master bedroom and it looks great. I found them on the internet and I am truly happy with my purchase ! I was very pleased with the quality of the product and the price…. Keep up the good work Exhale Fans ! And thank you.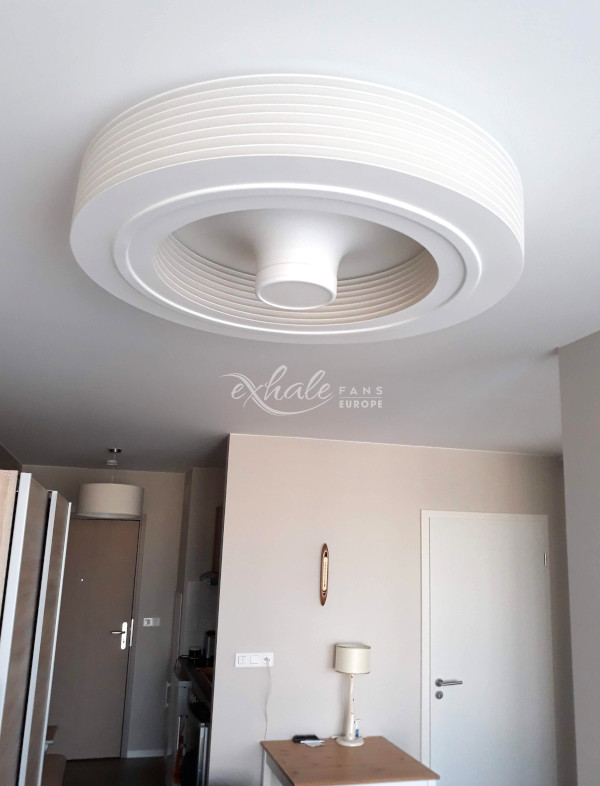 This Exhale fan installed in July 2020, has given me complete satisfaction.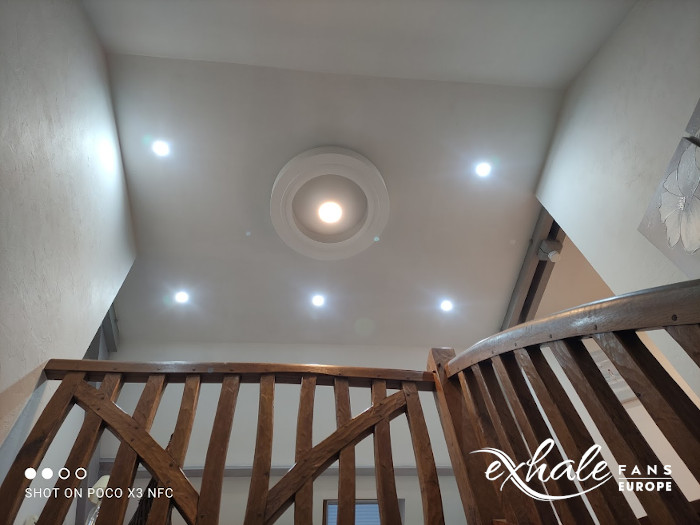 With a mezzanine the heat always rises with a cold feeling at the bottom. I bought and installed the Exhale fan to bring the heat down without the wind or noise, unlike the classic blade fans (which should be banned)… The Exhale company is very competent and gives good advice. To be ordered with a lamp for a design and aesthetic effect. Nothing to say. The product is of good quality and guaranteed. No more cold feeling downstairs… To recommend 5/5 and to buy with eyes closed…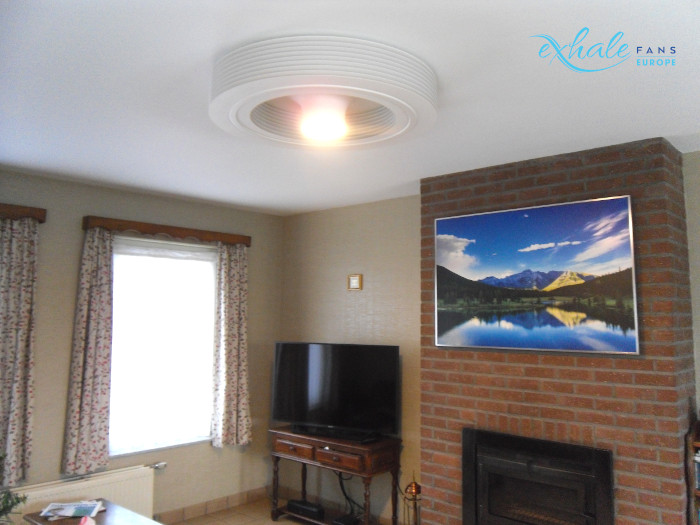 We have received the 2 LED lighting systems on Thursday, December 23, 2021. We proceeded to install one LED lighting system and it worked on the 1st try (see picture). Compliments to your service department for its responsiveness and speed! We also used the Exhale fan to help the wood insert and it gives full satisfaction! Indeed, for an outside temperature of 0° (and yes, it is cold in Belgium), we have an inside temperature of 22,5° in the living room (28 m2) and the kitchen (20 m2), attention very well insulated house. At the end of this year, we wish you the best for 2022.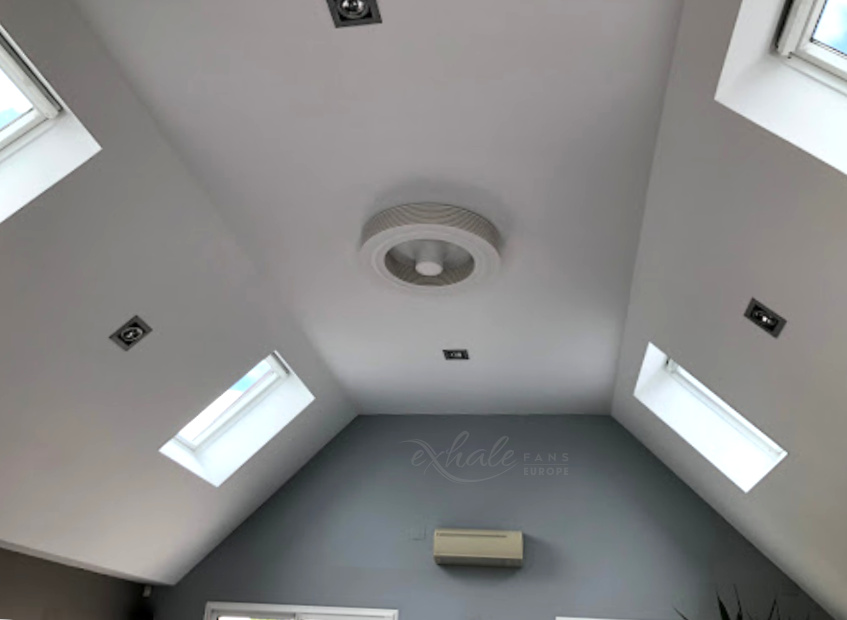 Very satisfied with the product, its efficiency, the distribution of heat in the room, as well as its design and sound level.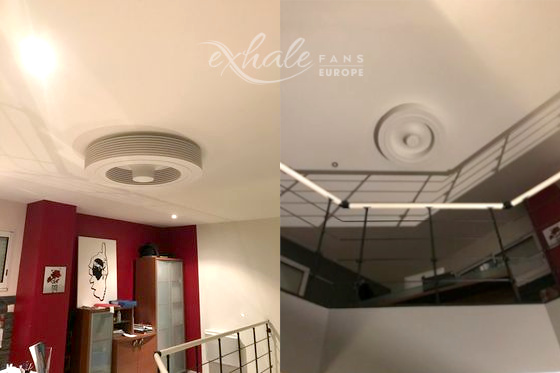 We are very pleased with the efficiency of our fan. Used as a destratifier, we gain 3 to 4 degrees in the living room and less heat upstairs. Less wood consumed by the wood stove for a better heat distribution… The promises are kept.
I bought the Exhale fan during summer 2020, it is a great product that we installed inside our bedroom and it gives us a different sensation than a regular fan : it does not blow air directly, it does as if the air is in constant movement. I had a problem with the LED light, I plugged it poorly and burned it and they sent me a replacement one quickly. I burned it again (my mistake) and they sent me 2, for free ! They arrived two days later, now I installed it and it works. I could not be happier and grateful towards this company 10/10 service and 10/10 for the fan. Thanks a lot !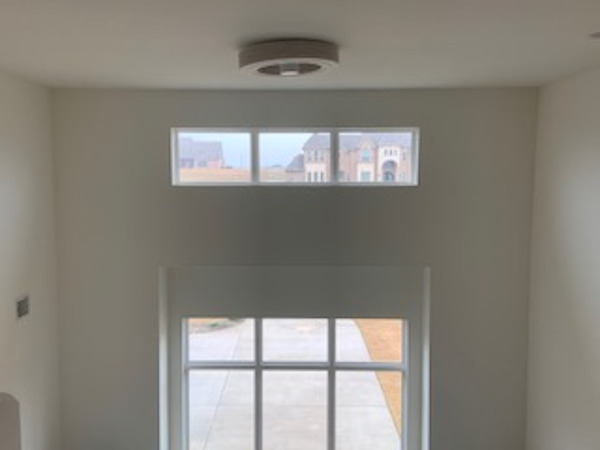 I wanted to express my gratitude towards you again in going above and beyond what I deemed appropriate for a company. It shows a higher level of integrity not often found in individuals today. We used the monies from the check you issued and had the the replacement fan you sent us installed today. It works incredible!! I can see a noticeable difference in air flow while it is on and have had to check numerous times to validate it's indeed on as it does not make a single sound.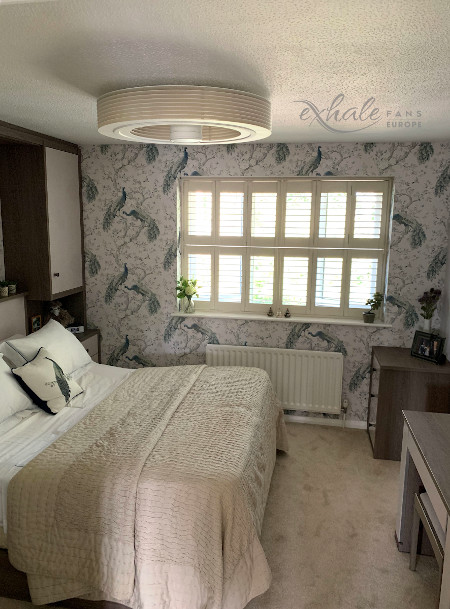 We recently purchased one of your fans and we absolutely love it. Does exactly what we were hoping it would do and more, so quiet and love the look. Thank you.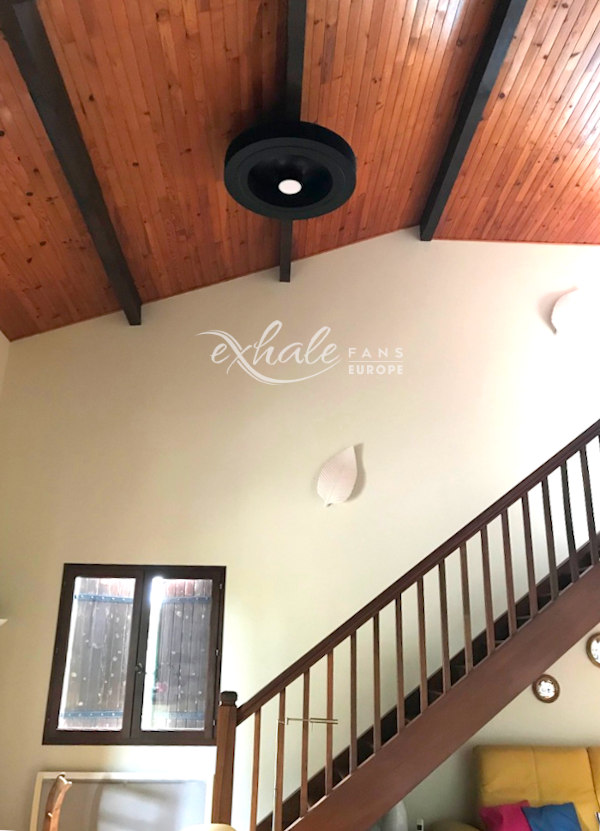 Installation of the Exhale fan in 2019 at a height level of 4.50 m in order to better distribute the heat from the fireplace insert stuck at the mezzanine level towards the bottom part of the room. Huge temperature difference between the ground floor and the first floor.
Commissionned during winter 2019/2020. No disappointment regarding the product which keeps all its promises by well distributing the heat all over the living room-mezzanine. No more drop in temperature in the staircase, no more cold feeling thanks to a very good uniformity of the heat despite the fact that the ventilator is fixed at hight level of 4.50 m! Feeling of well-being.
The plusses :
its design blends perfectly in our living room.
Quiet product.
Ergonomic remote control.
Its central lighting is valuable.
We bought 2 Exhale fans 3 or 4 years ago, as the mezzanine was open and there was a big problem with the distribution of heating between the top and the bottom in winter and the heat was very high in summer on the first floor, the fan has completely solved the problem. The second one is in an attic room with a very high ceiling. Great in summer and winter. Saves on heating and is comfortable in the summer.
In addition it is tax deductible.
I'm very pleased with the service and the quality of the product.
We are very satisfied with our purchase.
The Exhale fan is wonderful and the customer service is fast and efficient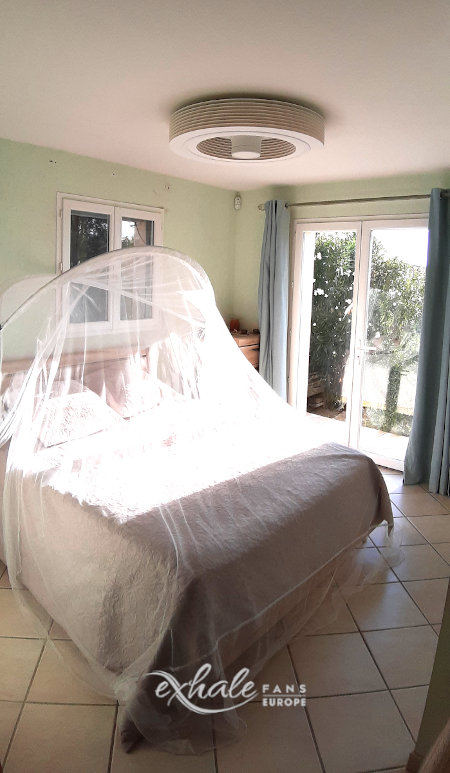 Easy installation, efficiency, quiet operation, very low electric consumption. I recommend!
I am very happy with my new one Exhale fan! The handling and the delivery of the device was very professional!
The Exhale fan looks beautiful, is totally quiet and cools the whole room like an air conditioner. I have to say, it is more pleasant than air conditioning!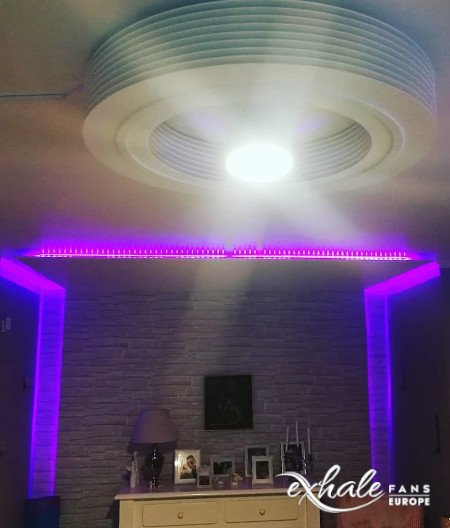 I received my Exhale ventilator today and I'm absolutely thrilled. The really simple assembly can be done by anyone who dare to attach a lamp. The result is a slight breeze across the room. It feels like sitting by the sea. Thanks to @exhalefanseu for this great product.
www.instagram.com/p/CESEAYsltfn/
We just installed your fan, finally. The wait was long but it was well worth it (order placed in January). We are excited about your product, the quality is there, the brightness is tip top, in a word great product. Our friends loved your product and orders may follow soon.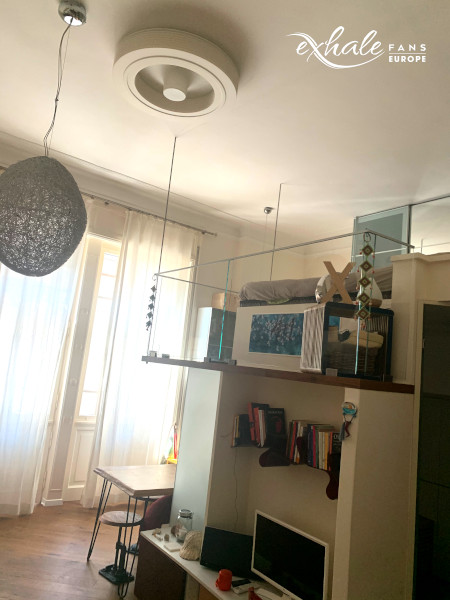 Installed ! It fits perfectly and it's fantastic to cool my mezzanine ! Thanks a lot for your assistance.
Our fan arrived and it is fantastic. We are very very pleased and the wait was well worth it!
So happy to have received and installed the "UFO" fan as my friends say … I am delighted with the product and have zero negative comment to make. It is really very good. Thank you again for having had the idea to market this product (too bad it is not French). Best regards
I am very impressed by your efficiency in sending me the exhale fan so quickly, in spite of the current problems. It arrived today, the electrician had time to mount it and it is now up and running perfectly. Many thanks.
Being tall, I was looking for a ceiling fan that was not too bulky and had a design.
I came across this product by chance, and being intrigued by the avant-garde operating principle, I enquired about it via their website.
After reading a multitude of reviews and several demonstration videos, I was quickly won over.
Once I received the fan and installed it myself (although I'm not a handyman, and yet I managed to do it myself), I was finally able to appreciate this breeze and especially the silence of its operation.
I use it all year round, even in winter to bring the heat down from above. In the summer, when it is very hot, I use a mobile air conditioner which allows a good distribution of the air in the flat.
I was pleasantly surprised by the silence of operation, (inaudible from medium to very low speed) so much so that I sometimes forgot to hear it several times.
Two of us in the family own one and I would recommend it to anyone who is hesitating.
Everyone who visits my flat for the first time is always intrigued by this… "chandelier'.
Wrong, it's a fan!
Exhale fan helped to solve some constraints we were facing as:
Low ceiling heights.
Air diffusion from all sides covering a larger space compared to a conventional ceiling fan blowing the air vertically.
No permanent blowing that could cause discomfort.
Very quiet.
I am using my fan during summer heat waves but also during the winter. It spreads the heat generated by my pellet stove in all the rooms. The heat does not stay stuck to the ceiling and the atmosphere of the house is transformed. No noise, very low consumption largely compensated by the economy in granules and an irreproachable aesthetic.
We were trying to find a way to distribute the ascending heat from a wood burning stove in a living room with cathedral sealing. The fan is discreet, design and we are very happy with its efficiency. The heat is well distributed more than before where all the heat was remaining at ceilling level.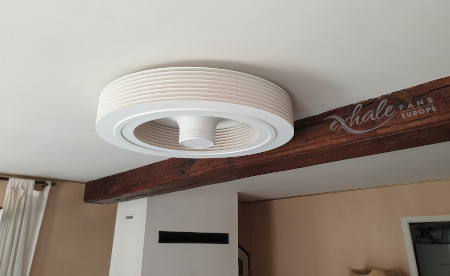 I had a closed wood fireplace installed in 2018. I quickly realized that when it heated, the heat stagnated on the ceiling. I looked for a solution and found the Exhale ceiling fan. It is really the best, a good mixing of the air, which allows to have a homogeneous heat. And little more for the very hot summers of now, a refreshment without having an excessive draft in the eyes as with a traditional fan. I do not regret my investment. Thanks Exhale.
Product received with proper packaging. Easy ceiling setup with dedicated concrete anchors (very useful : everything is supplied). Perfect operation from the start. You are quickly surprised by the efficiency of the product: very low sound, pleasant breeze. In hot weather, even with closed windows, the air circulates gently throughout the room. A great success!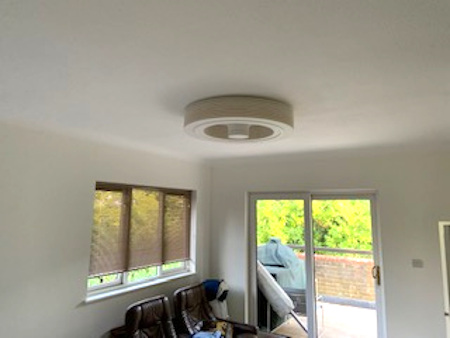 We have now had a month of blissful sleep thanks to our exhale fan. It is simply magnificent. So quiet we run it through the might and receive a gentle,cooling and invigorating stream of clean air. Wonderful product would recommend to everyone, it's easy to install and the benefits are obvious from day one.
We changed our old multi-blades fan for the Exhale fan. We are delighted by the design (it brings a modernized design our living room), the breeze effect during the heat wave and the silence of the air flow provided by the fan. In short, we are very, very pleased with our purchase. Can't wait to see the effect during winter time combined with our wood burnung stove.
We have this exhale fan for about three weeks now, and we have to say that we would not have thought that this device would cool our entire room so nicely. Our living room is approximately 38 square meters and this summer is very warm. We are already thinking about whether to have another one in the sleeping area. We can only recommend this exhale. Sure, it's not cheap, but it's worth the money Ps: at first we were afraid that everything would work out without issues, because he comes from abroad (France when we are in Germany), everything was only handled via the internet, but the supplier always replied quickly and everything went correctly (correspondence and shipping). Thank you again for a great process and we wish you good business.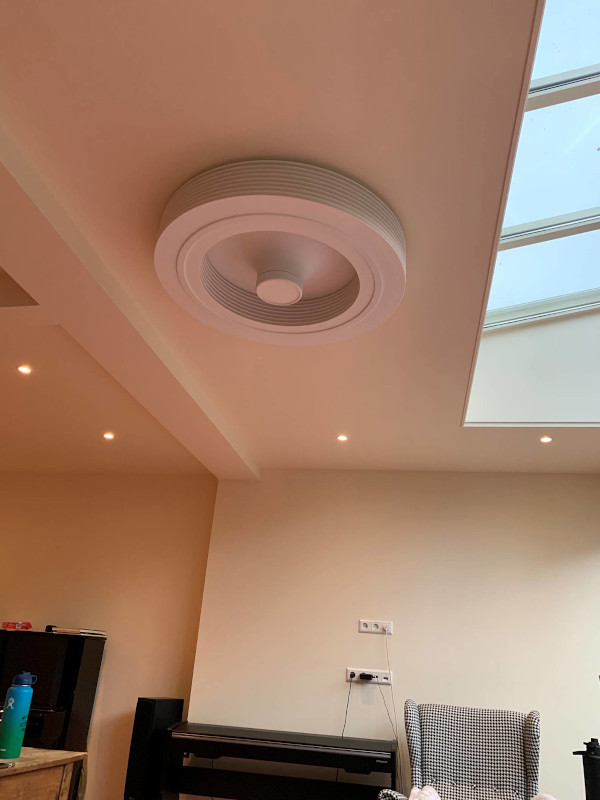 The fan is working perfect and is very beautiful.
Hi Hans, Well the Fan is in use and we love it! Delicious little cooling, silent, really great ………. We are happy with it! Thanks again for your help, otherwise he probably wouldn't have been here haha! Sunny greetings, Inge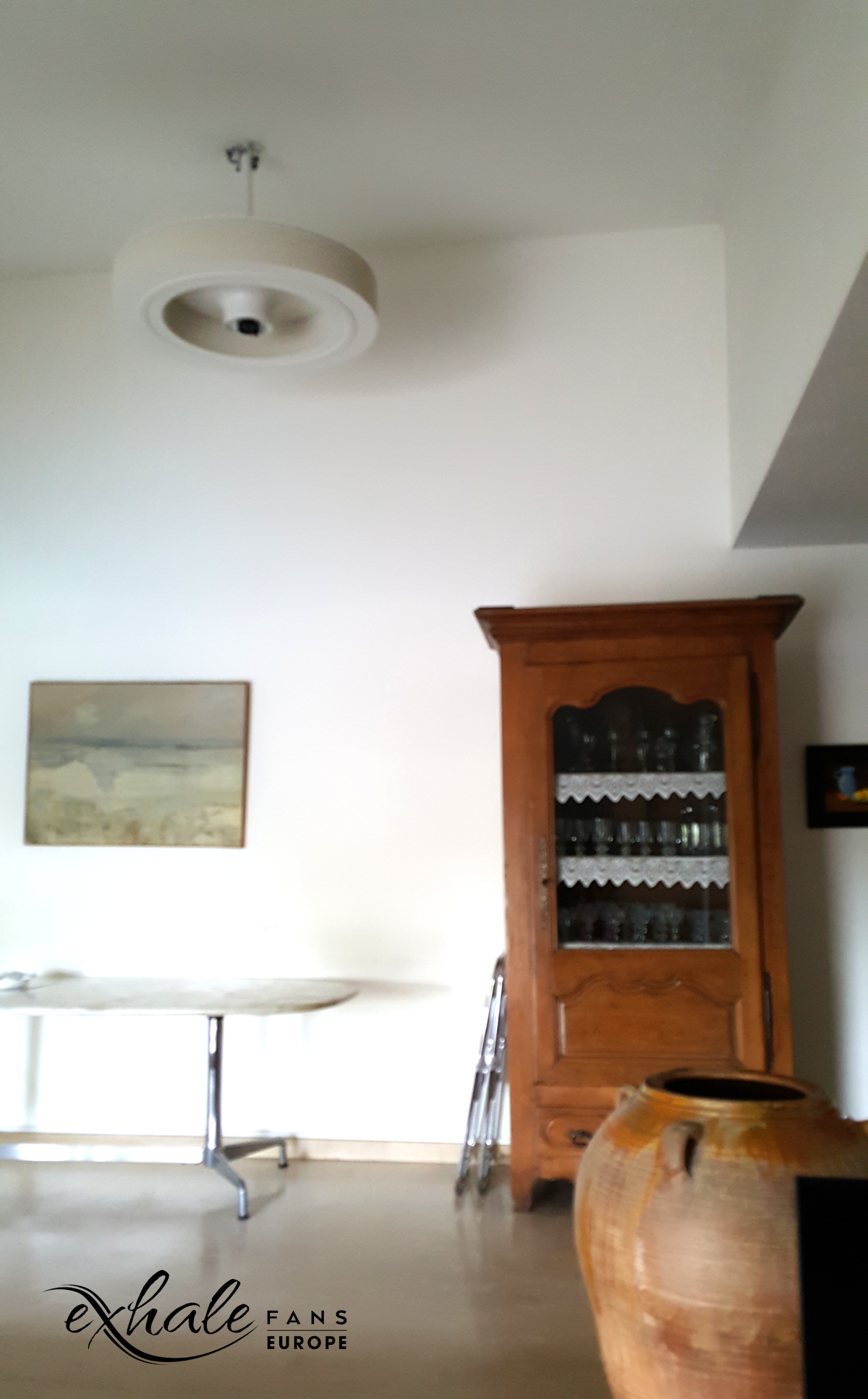 I am very happy with the effects from my Exhale fan: the air is circulated in a very discreet, almost silent way (for level 3 used), we do not realize the presence of the fan, simply we feel good without knowing why. The felt air temperature is lowered by several degrees. It should also be noted that the room is anything but square, with a sloping ceiling and quite large (around 40m²) with no separation from the entrance hall and the upstairs staircase. Despite this, the air is well diffused everywhere.
The fan works better than advertised. Normal fans you feel the air blowing straight down and it is a strong breeze. This fan truly circulates the air around the entire room. The fan is a great addition to our newly renovated living room, makes no noise and looks amazing. Installation was also a "breeze" taking less than 20 minutes.
Our customers (public schools & buildings) are very satisfied with exhale fans, they like the air breeze that feels like a soft marine breeze. From our professional side, despite a long delivery, we underline the reactivity of the European distributor, with a proper after sales service for a premium product.   Respaut general Electricity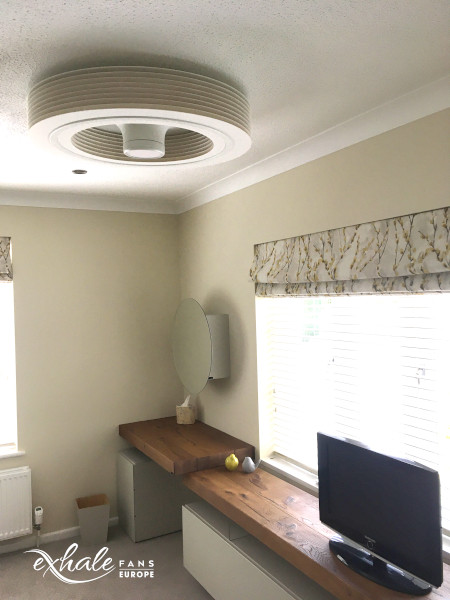 Really pleased with the overall look if the room and how quiet the fan is.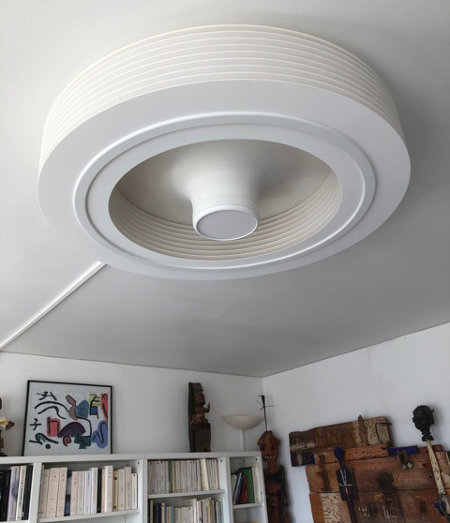 This Friday I received the Exhale bladeless fan that I ordered on Wednesday! I have just installed it and enjoy the cool effect which it creates and the fact that it is silent.

Looks great and is practical!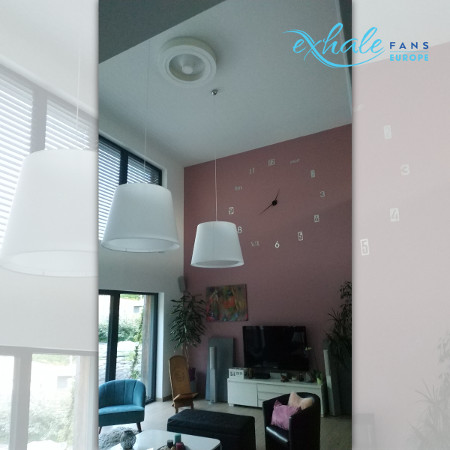 Here is a photo of my installation in my living room where this superb fan has found its perfect place and use.
Our living room with mezzanine and cathedral ceiling was impossible to heat on the ground floor and was an oven on the upper floor. We have had the Exhale fan since last winter : pleasant temperature on both levels. Added to which the manager was open to our concerns. Recommended.
We bought this product in June 2017 and are so satisfied with it that we are going to buy a further one for this summer 2018. At the time of our first purchase, contact with the Exhale manager was very pleasant, professional and reactive. Delivery to Switzerland presented no problems. We regularly enjoy the cool atmosphere that the fan creates, without being disturbed by the unpleasant flow of air from a traditional fan and all that in total silence. What a pleasure! Thanks to all the team.
Good morning, So I have tried and installed this new product: the EXHALE, the new generation fan. I am very happy with this purchase, for several reasons:
Noiseless
No "unpleasant" rotation to watch like the old fans with blades
Cool look… a lot of my friends were surprised by the design
Very efficient optional light which is not simply a gadget
Diffusion of the air very gentle and homogenous
The cherry on the cake : the remote control is very practical and simple to use.
I highly recommend this product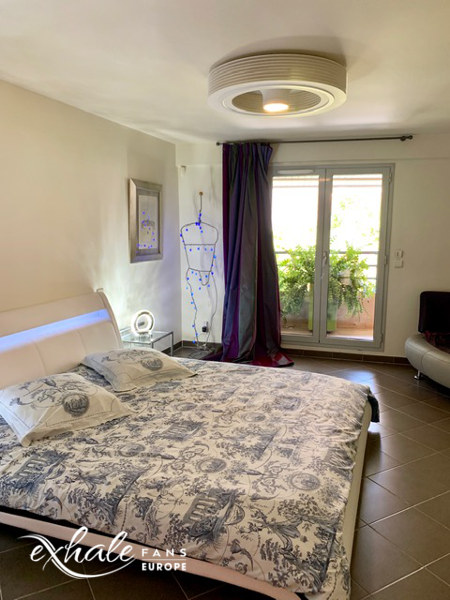 It's a super fan, the excellent distribution of air is impressive. We are delighted and surprised by the elegance and quality of this product and also the absence of noise.
Super nice fan and excellent service from Exhale! I am very happy with this!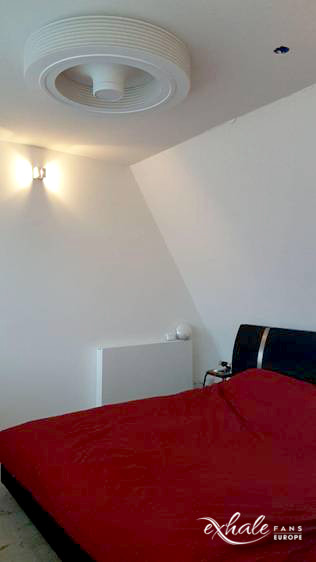 We are very happy with the cool effect and quasi-silence! The fan is installed over our bed and gives us the sensation of a pleasant breeze, without being a disturbance as would a normal fan. Superb!
With the arrival of the heat wave, we have been sleeping with the Exhale fan on in the bedroom. We put it on speed 2, practically noiseless with very pleasant total cooling breeze effect
Delighted with my purchase. Product adequate in my room – very high panelled ceiling – which allows the warm airflow to be directed down, so the room is perfectly temperate! The airflow can be reversed if required. Extra gentle, silent air distribution. I chose the model with "warm white" lighting, with adaptable light intensity: the best! Magnificent design, perfect packaging.
I bought this article at the beginning of September, quick delivery, easy to install, very quiet, very even ventilation, very low consumption and with the option of the variable LED lighting, is really very good. This product is really the best of the best. Added to which the reception and professionalism of Exhale Europe is excellent. Thank you.
Source : 
www.facebook.com/tlelous/posts/1739230816119497:0
While doing some remodeling and looking for ideas, my wife stumbled across exhalefans.com. after watching some videos and getting more information, she decided she wanted one. I on the other was against it. Of course, being married, I lost the battle. Today, our fan was finally installed. All I can say is WOW. Myself along with my contractor were completely amazed with the airflow this fan puts out. I highly recommend for people to put out the few extra dollars and be happy. An added bonus is the doesn't hang down low. No swaying or ducking to avoid running into low hanging fans
A BIG thanks to the folks at Exhale Fans! Wonderful product, easy install! Total time spent installing from dropping the old fan to installing the Exhale? Only 25 minutes! – Martin
Add your testimony!
We do not publish your personal information such as your name or your contact details.