Exhale, silent, bladeless, unique
Exhale ventilates the whole room at 360 degrees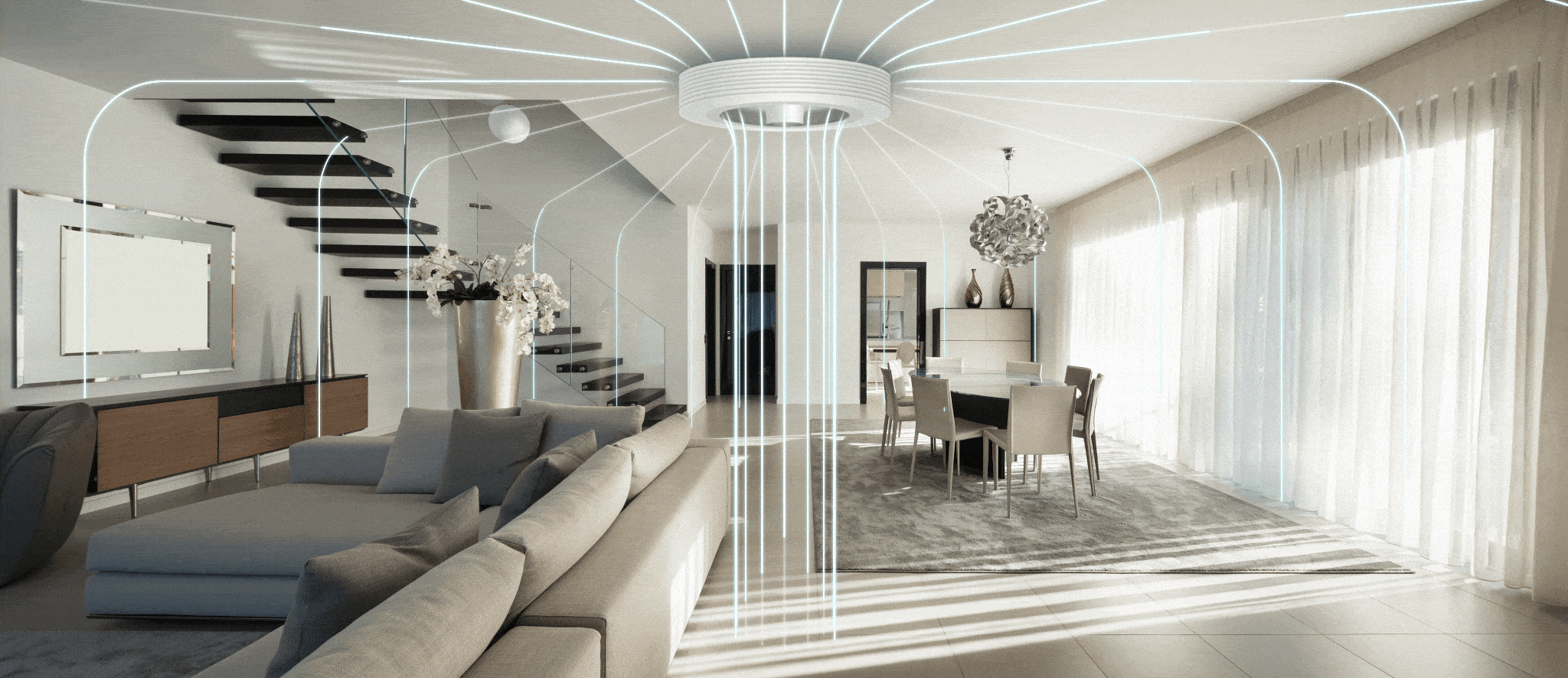 Thanks to its unique patent, the Exhale fan absorbs the air and redistributes it at 360 degrees around the room.
How does it work?
Contrary to the traditional ceiling fan which simply stirs a column of air below it, the Exhale bladeless fan absorbs the air under it by the vortex effect then redistributes it all around the room (360 degrees). The air then rebounds against the walls to create an overall breeze effect wherever you may be. Our Exhale fan is silent and economical, discreet and noiseless all while bringing you comfort all year round.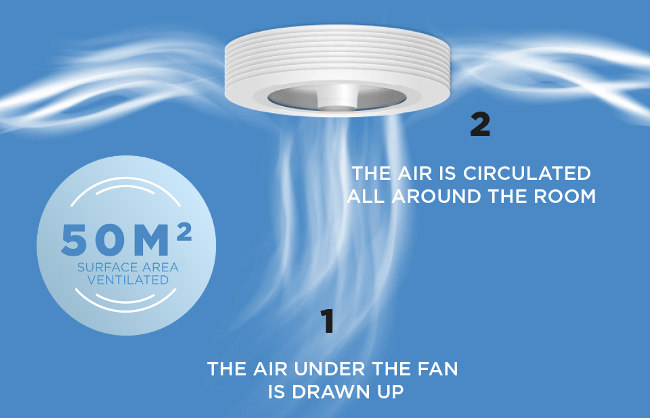 15-day money-back GUARANTEE
Exhale
Exhake fan is stylish with spherial shapes and sleek lines, with no visible screw
Conventional fan
Classic «colonial» type fan with blades
Exhale
the fan is able to achieve a unique VORTEX flow by drawing air from below and returning it in a 360-degree direction for total ventilation throughout the room
See in video
Conventional fan
Blow of air in column only under the fan
Exhale
Brushless DC engine (direct current) with a maximum rotation speed of more than 300 rpm, silent (40 DB) and a circulating air volume of 115 m3/min.
Conventional fan
AC (alternating current) engine is more economical but noisier and greedy in terms of energy.
Exhale
Diameter 86 cm / thickness 18 cm only.
Conventional fan
Diameter 70 à 145 cm / thickness 25 à 45cm.
Exhale
Silent and almost imperceptible (between 30-40db)
Conventional fan
Noisier due to the friction of the blades in the air.
Exhale
In destratification mode, speed 1, the Exhale fan consumes only 4 watts, 10 to 20 times less than a conventional bulb.
Conventional fan
AC engine (alternating current) consumes 80% more energy than a DC engine.
Exhale
a fan is able to cover a 50m2 room with an even floor/ceiling temperature for ceiling heights up to 7 meters. Ideal for high ceilings with mezzanine.
Conventional fan
a conventional fan covers a room of maximum 35m2, beyond that limit a second fan is required.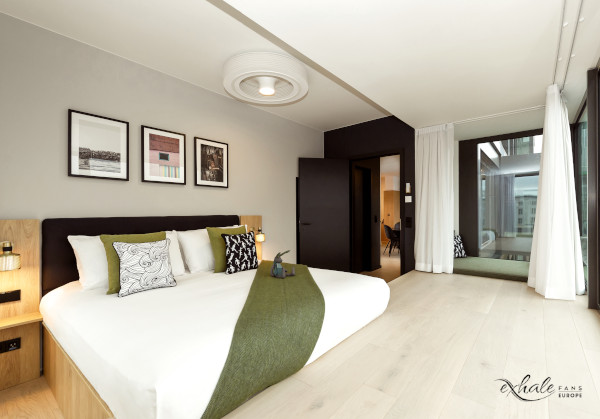 Wilde Hotel (Germany)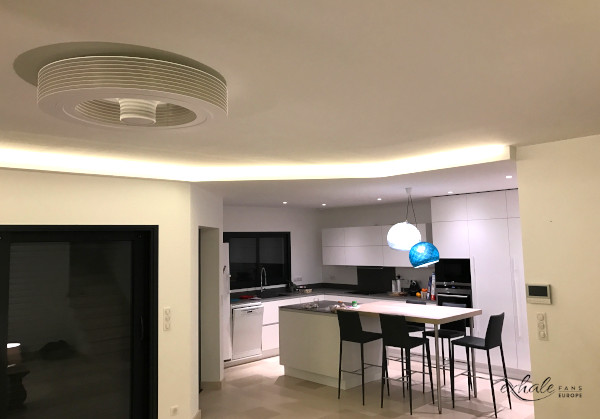 Kitchen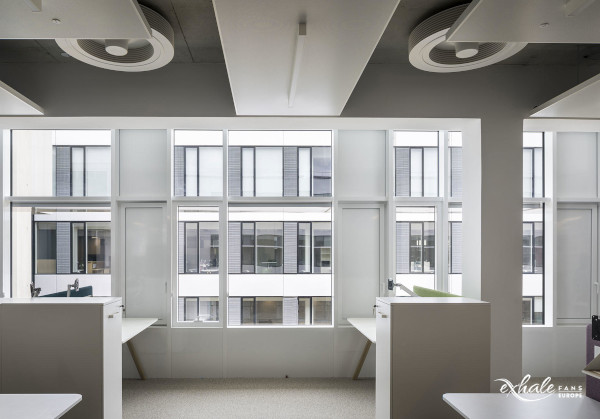 Air Liquide - Office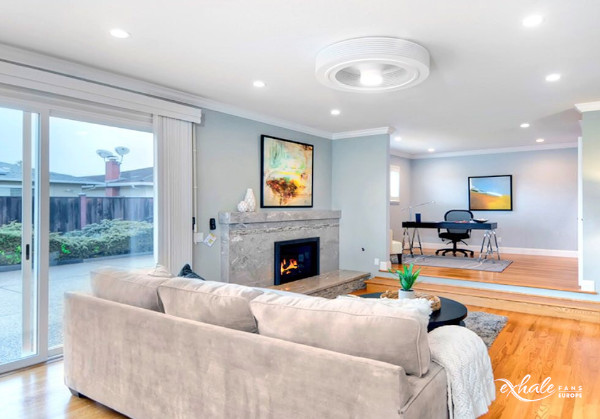 Living room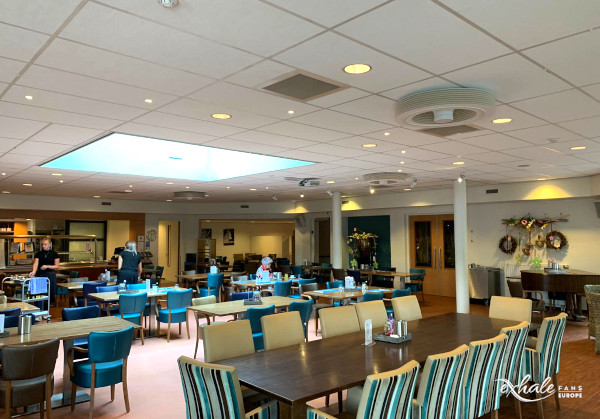 Retirement home - Proteion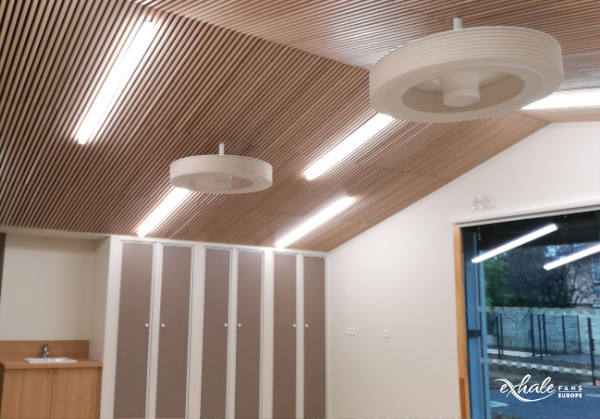 Children's day care centre in Lyon (France)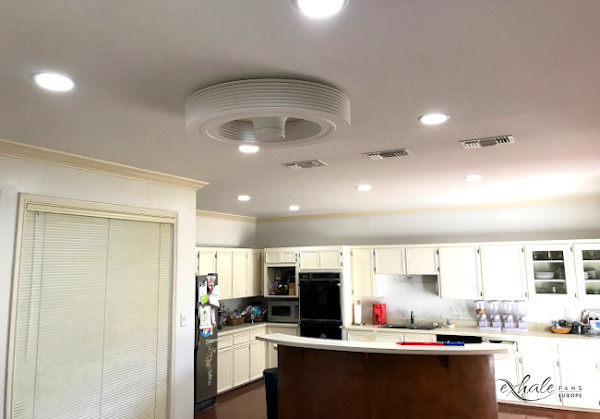 Kitchen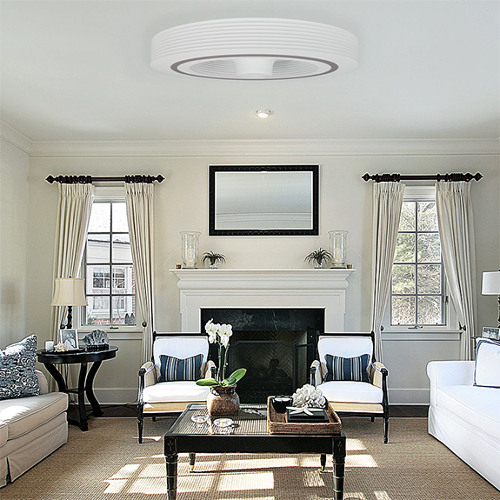 Silent
With a sound volume of 40db maximum, it is generally virtually inaudible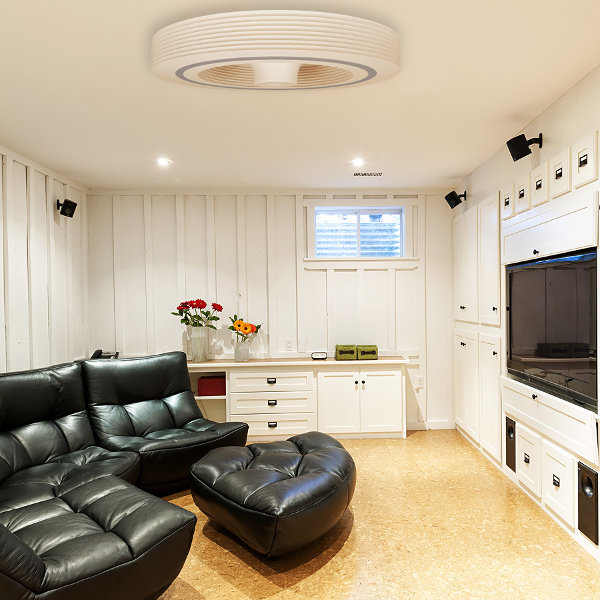 Ecological
It consumes very little current (between 2 and 50 watts). The electricity consumption is halved every time the speed is reduced (6 speeds)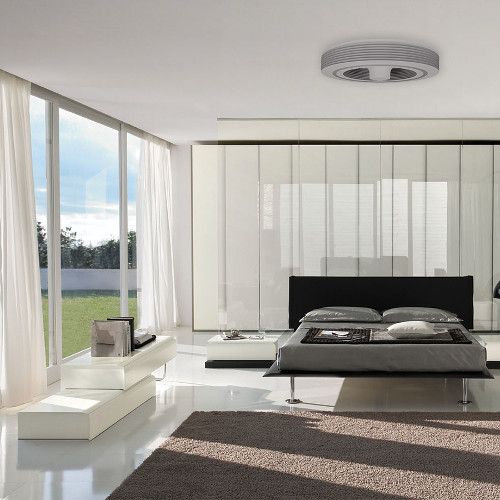 Efficient
It distributes a gentle breeze throughout the room, not just below it.
Who are we?
The designer of Exhale used to be a pilot with the American Air Force who drew his ideas from Nikola Tesla's famous bladeless turbine. He reproduced the principal of a jet engine which operates in reverse to create the Exhale fan.
Silent
The Exhale bladeless fan was designed to blend noiselessly into the atmosphere. The absence of blades considerably reduces the sound level. The DC Brushless motor is very discreet. Ultimately, the Exhale fan operates at only 33 to 45 decibels (6 speeds)
Ecological and economical
The absence of blades reduces the friction of the air. The Exhale fan is equipped with a low-consumption DC motor, with a 5-year warranty. At maximum power it only consumes 50W.
Efficient all year round
In the summer, you feel like the room is 3 to 5 degrees than what it is (the gentle wind generated by the fan allows a better evacuation of perspiration on your skin). In the winter Exhale breaks the layers of temperature from floor (cold) to ceiling (warm) (Exhale is an efficient destratification device). With Exhale; the temperature becomes even from floor to ceiling.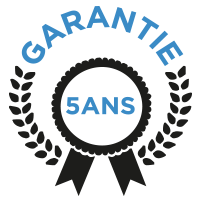 5-year warranty
Motor / discs / LEDS / Remote control all have a 5-year warranty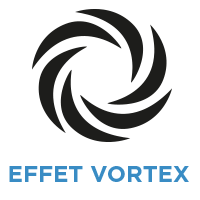 Vortex effect
Unique ventilation throughout the room (360 degrees)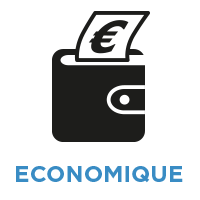 Economical
Maximum electricity consumption 50W (speed 6). The consumption is halved at each time the speed is reduced.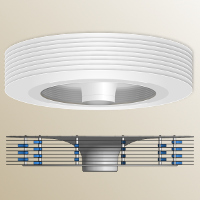 Refined and flat
The thickness is only 18 centimetres. No risk of injury. Ideal for low ceiings.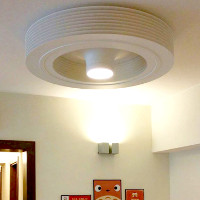 Bright light output
Ceiling fan with LED, warm 3K or cold 6K. Light independent of the ventilation. (Adjustable 20 to 100%. 850 lumen (warm light / yellow). 1150 lumen (cold light / white).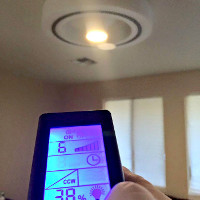 6 programmable speeds
120 to 312 revolutions/minute. 30 to 45 decibels. 2 to 50 Watts.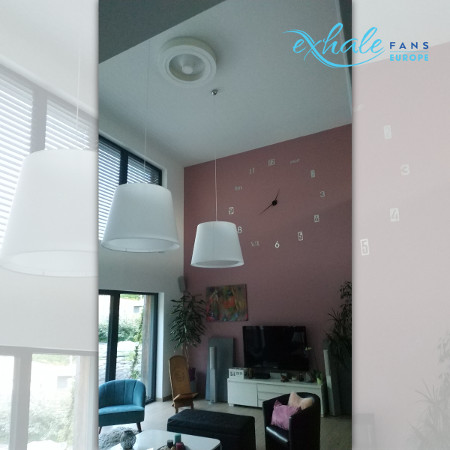 Here is a photo of my installation in my living room where this superb fan has found its perfect place and use.
We are very happy with the cool effect and quasi-silence! The fan is installed over our bed and gives us the sensation of a pleasant breeze, without being a disturbance as would a normal fan. Superb!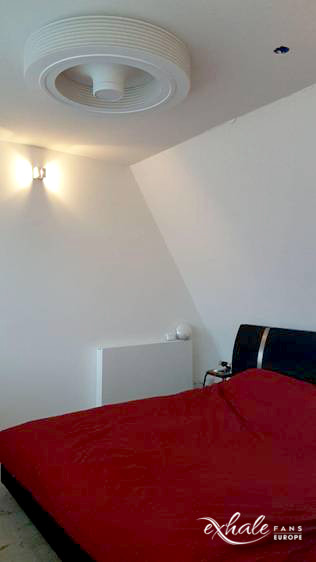 Looks great and is practical!
We bought this product in June 2017 and are so satisfied with it that we are going to buy a further one for this summer 2018. At the time of our first purchase, contact with the Exhale manager was very pleasant, professional and reactive. Delivery to Switzerland presented no problems. We regularly enjoy the cool atmosphere that the fan creates, without being disturbed by the unpleasant flow of air from a traditional fan and all that in total silence. What a pleasure! Thanks to all the team.
I bought this article at the beginning of September, quick delivery, easy to install, very quiet, very even ventilation, very low consumption and with the option of the variable LED lighting, is really very good. This product is really the best of the best. Added to which the reception and professionalism of Exhale Europe is excellent. Thank you.
Delighted with my purchase. Product adequate in my room – very high panelled ceiling – which allows the warm airflow to be directed down, so the room is perfectly temperate! The airflow can be reversed if required. Extra gentle, silent air distribution. I chose the model with "warm white" lighting, with adaptable light intensity: the best! Magnificent design, perfect packaging.
They have placed their confidence in us.

























They're talking about us!