Winter: Heat your home all over efficiently
Every year same story, winter comes faster than expected and we wonder how to efficiently heat our house up. The good news is that your Exhale ventilator, which is so useful for providing comfort in the summer, is also capable helping you during winter period.
With this bladeless ceiling fan, you will be able to:
Save energy.
Disperse the hot air from your fireplace.
Balance the temperature between the levels of your home (loft, mezzanine).
DESTRATIFY (= break the temperature layers).
1 – Save energy
Whatever heating you have, Exhale Fan can make it more efficient (as your air conditioning in summer for the matter) .
It will send the air throughout the room ensuring good air circulation ALL-OVER.
Your heating is therefore more efficient and consumes less.
Purdue University (USA) has shown that with our fan, you can reduce your electricity bill up to 38%!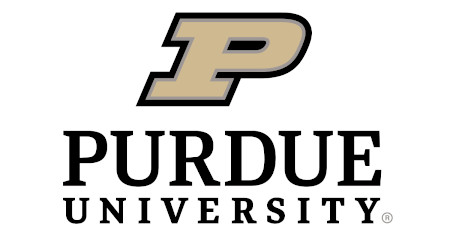 2 – Disperse the hot air from your fireplace or stove
This point is particularly valid with modern stoves. These are so efficient in terms of energy that they are limit unbearable when standing within a meter of them.
In this case, the hot air around the stove or fireplace will be taken in by the Exhale fan and expelled out at 360 degrees around the room. The temperature near the stove will be bearable and the hot air will be dispersed throughout the room.
This will be particularly useful for large living rooms with an open kitchen and or for rooms with high ceilings.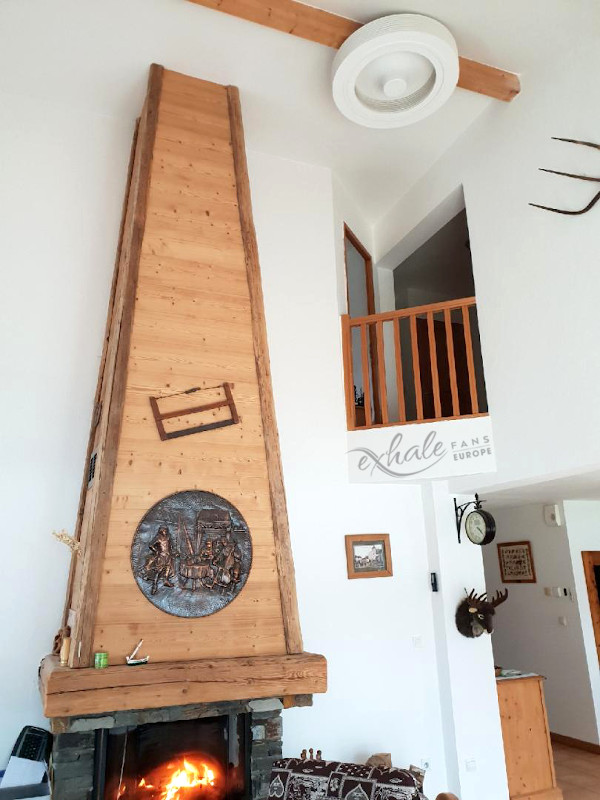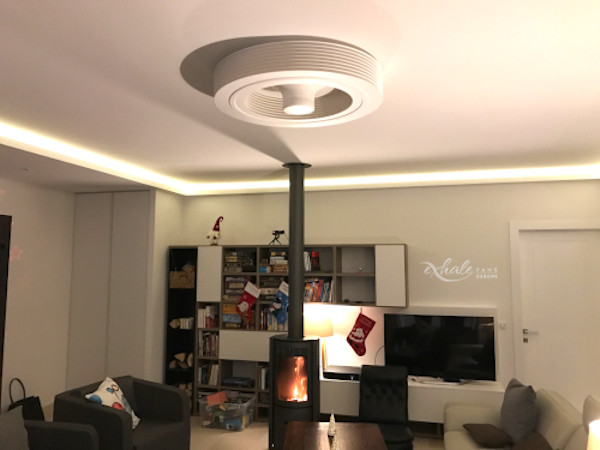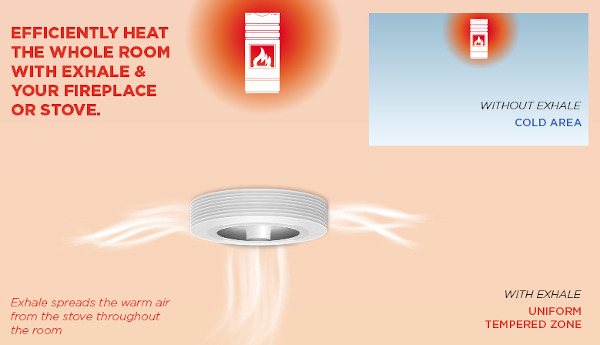 3 – Hamonize the temperature between the different floors (loft, mezzanine, Haussmanian building, high ceilings)
When you have high ceilings (cathedral ceiling, Haussmanian building, etc.) or a mezzanine, you always have the feeling of just heating the ceiling! And this is accurate because heat rises (see the diagram of De-Stratification below).
Higher the ceilings are, more difficult the room is to heat up!
The Exhale fan deflects the hot air accumulated on the ceiling to the sides of the room. The mezzanine ambiance will be more pleasant with the hot air that is better distributed and the air flow created. And above all you will finally enjoy the warm air on the ground level.
It can also be used in staircases between 2 floors.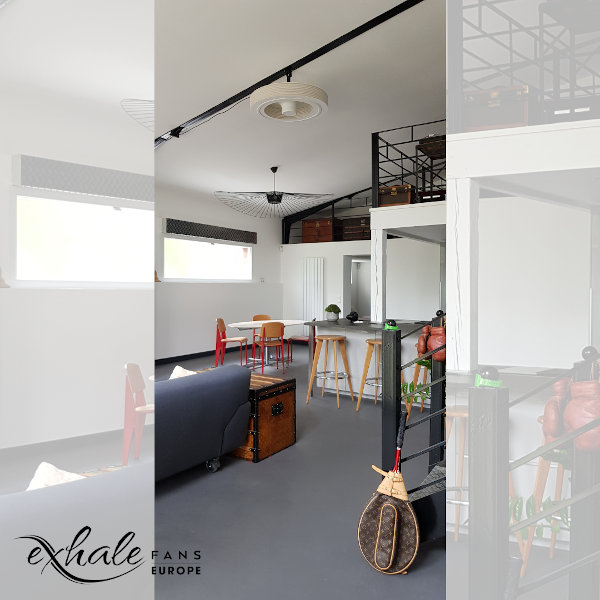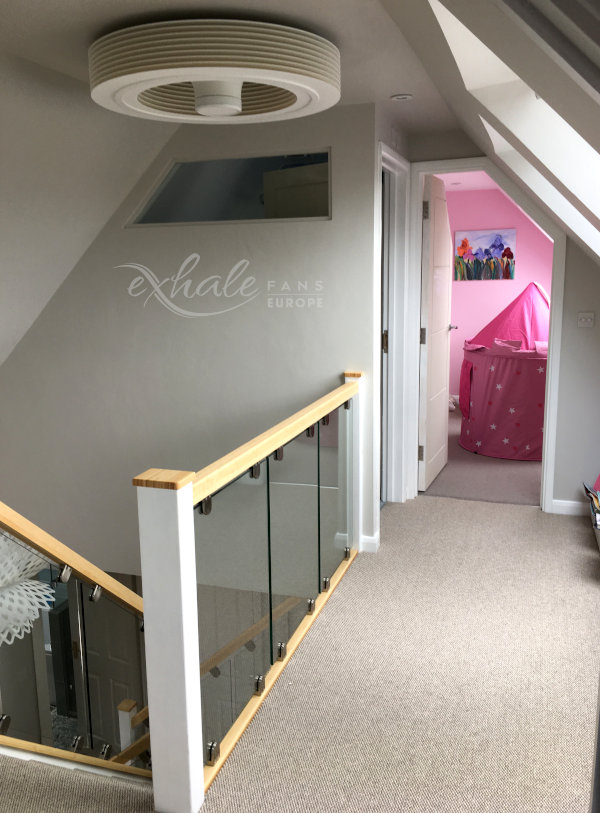 Fan installed at a height of 6 metres for destratification.
4 – De-stratification
Behind this barbaric name hides the phenomenon which explains why it is so complicated to heat high ceilings and the Exhale solution for your winter comfort.
Indeed, the temperature will organize itself in layers of temperatures from the coldest to the hottest. The coldest on the ground (hence the cold feet syndrome) where we live (damn gravity!) Then the layers get warmer and warmer to the ceiling.
This results in temperature differences of up to several degrees between the floor and high ceilings. By blending the air, Exhale will break these temperature layers / strata (hence the term DE-stratification).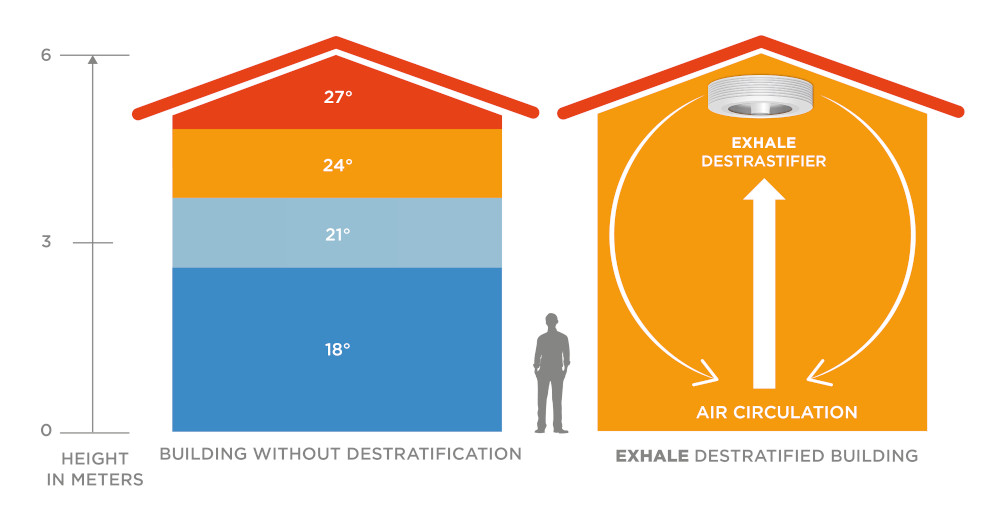 Therefore your Exhale will be a precious companion for both summer comfort (cooling, air flow, better sleep) and winter comfort (efficient heating, management of high ceilings, de-stratification).
Beyond summer and winter comfort, Exhale bladeless ceiling fans reduce energy costs in buildings, which is a major objective of the new environmental standards (IE RE2020).
Thanks to its 360 degree ventilation, Exhale allows a better distribution of air in the room.
How much does an Exhale that runs 24 hours a day cost?
Based on a kWh cost of 0.174€ (average rate of EDF – Electricity of France in 2021).
Knowing that an Exhale in speed 1 (minimum / for winter comfort), consumes only 4 Watts per hour.
Knowing that an Exhale in speed 6 (maximum / for summer comfort) consumes 50 Watts per hour.
In a month of 30 days, running 24 hours a day, it will therefore run 24 x 30 = 720h/month.
At speed

1

(winter comfort), an exhale running 24 hours a day will consume

0,5€

of electricity per month.
At speed

6

(summer comfort), an exhale running 24 hours a day will consume

6,26€

of electricity per month.
| Speed | Consumption (W/h) | Cost W/h | Per day (€) | Per month (€) |
| --- | --- | --- | --- | --- |
| 1 | 4 | 0,000174 | 0,02 | 0,50 |
| 2 | 6 | 0,000174 | 0,03 | 0,75 |
| 3 | 9 | 0,000174 | 0,04 | 1,13 |
| 4 | 16 | 0,000174 | 0,07 | 2,00 |
| 5 | 36 | 0,000174 | 0,15 | 4,51 |
| 6 | 50 | 0,000174 | 0,21 | 6,26 |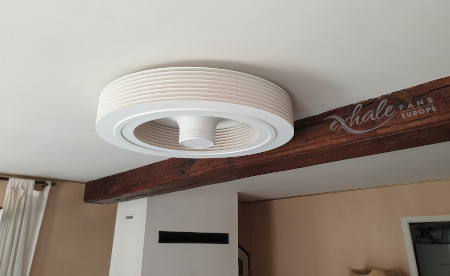 J'ai fait installer, en 2018, un foyer fermé à bois. Je me suis vite rendu compte que lorsqu'il chauffait, la chaleur stagnait au plafond. J'ai cherché une solution et j'ai trouvé le ventilateur de plafond Exhale. C'est vraiment le top, un bon brassage de l'air, qui permet d'avoir une chaleur homogène. Et petit plus pour les étés très chaud de maintenant, un rafraichissement sans avoir un courant d'air excessif dans les yeux comme avec un ventilateur traditionnel. Je ne regrette pas mon investissement.
Merci Exhale.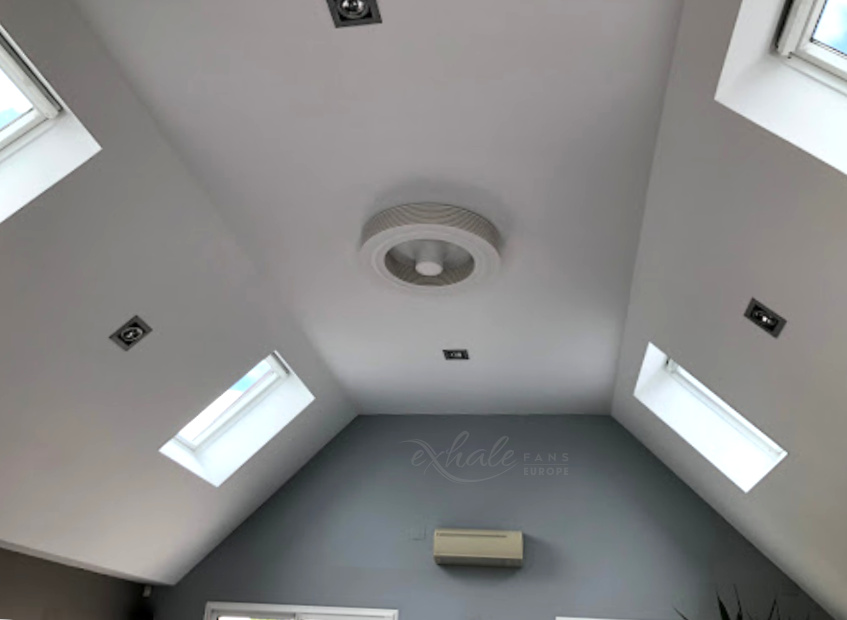 Very satisfied with the product, its efficiency, the distribution of heat in the room, as well as its design and sound level.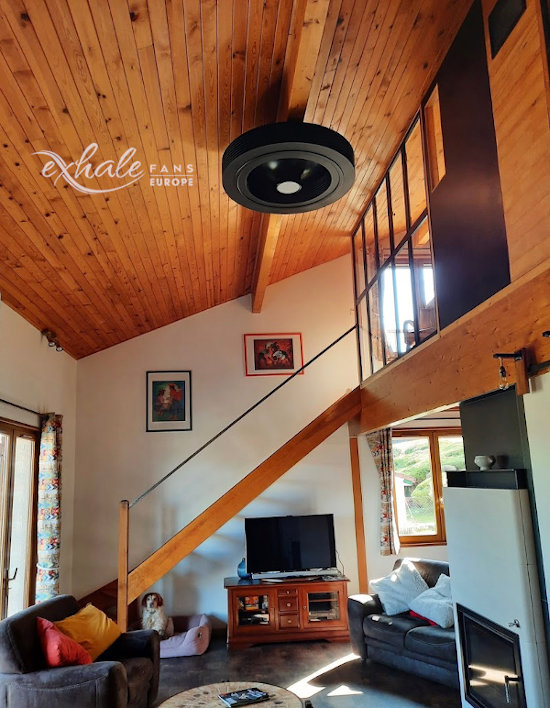 We installed the Exhale fan a few days ago. The cooler temperatures of the last few days gave us a good opportunity to test the fan. We had a problem with heat distribution in the house, which has a mezzanine, a half floor and a back room. Thanks to the fan, the heat is much more homogeneous and the differences between all areas of the house have been drastically reduced. In addition, the telephone reception is very pleasant. I can only recommend this product and this company.
Being tall, I was looking for a ceiling fan that was not too bulky and had a design.
I came across this product by chance, and being intrigued by the avant-garde operating principle, I enquired about it via their website.
After reading a multitude of reviews and several demonstration videos, I was quickly won over.
Once I received the fan and installed it myself (although I'm not a handyman, and yet I managed to do it myself), I was finally able to appreciate this breeze and especially the silence of its operation.
I use it all year round, even in winter to bring the heat down from above. In the summer, when it is very hot, I use a mobile air conditioner which allows a good distribution of the air in the flat.
I was pleasantly surprised by the silence of operation, (inaudible from medium to very low speed) so much so that I sometimes forgot to hear it several times.
Two of us in the family own one and I would recommend it to anyone who is hesitating.
Everyone who visits my flat for the first time is always intrigued by this… "chandelier'.
Wrong, it's a fan!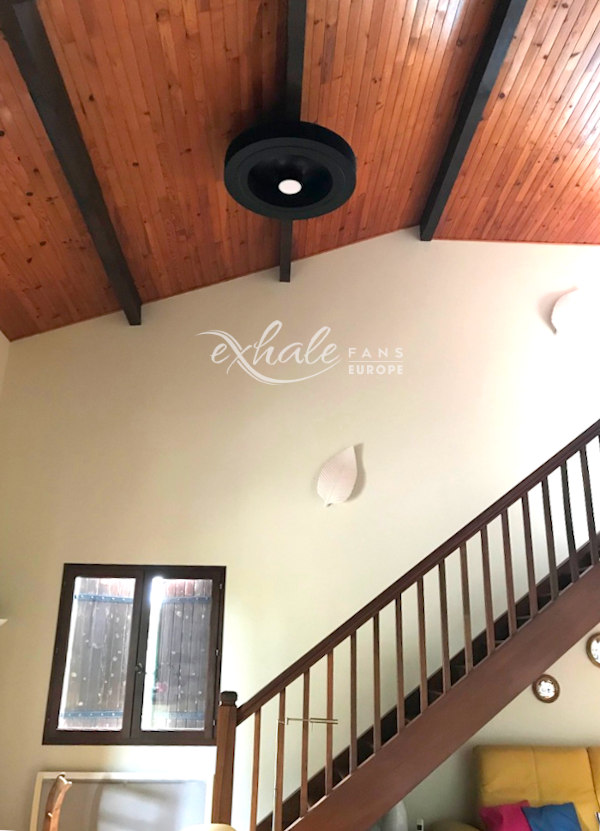 Installation du ventilateur Exhale en 2019 à une hauteur de 4,50 m dans le but de récupérer la chaleur d'un Insert accumulée en mezzanine vers le bas de la pièce. Importante différence de températures entre le RC et l'étage.
Mise en service au cours de l'hiver 2019/2020.
Aucune déception du produit qui tient bien ses promesses par une répartition de la chaleur dans le grand volume salon-mezzanine. Plus aucune fracture de température à mi-hauteur de l'escalier, plus aucune sensation de froid vers le bas par une très bonne uniformisation de la chaleur tout en étant fixé à 4,50 m ! Sensation de bien-être.
Les plus :
son design s'intègre parfaitement bien à notre intérieur
produit silencieux
manipulation simple à partir de la télécommande
son éclairage central est très appréciable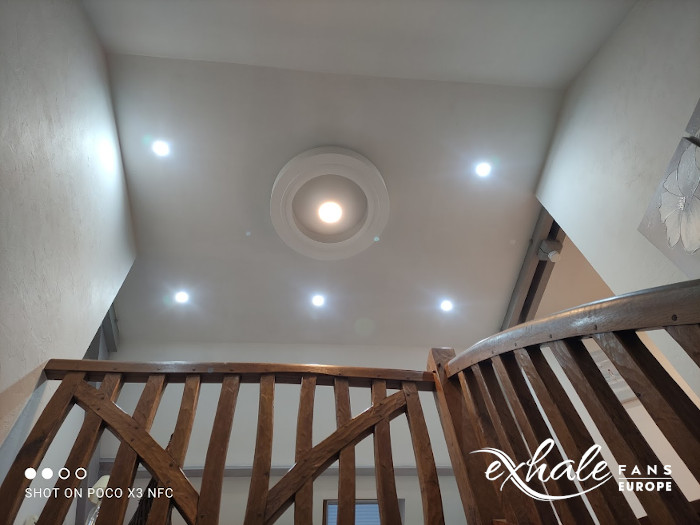 With a mezzanine the heat always rises with a cold feeling at the bottom. I bought and installed the Exhale fan to bring the heat down without the wind or noise, unlike the classic blade fans (which should be banned)… The Exhale company is very competent and gives good advice. To be ordered with a lamp for a design and aesthetic effect. Nothing to say. The product is of good quality and guaranteed. No more cold feeling downstairs… To recommend 5/5 and to buy with eyes closed…
We bought 2 Exhale fans 3 or 4 years ago, as the mezzanine was open and there was a big problem with the distribution of heating between the top and the bottom in winter and the heat was very high in summer on the first floor, the fan has completely solved the problem. The second one is in an attic room with a very high ceiling. Great in summer and winter. Saves on heating and is comfortable in the summer.
In addition it is tax deductible.
I'm very pleased with the service and the quality of the product.
We are very satisfied with our purchase.
We were trying to find a way to distribute the ascending heat from a wood burning stove in a living room with cathedral sealing. The fan is discreet, design and we are very happy with its efficiency. The heat is well distributed more than before where all the heat was remaining at ceilling level.