Air destratification with Exhale
1. Fluid mechanics, especially in the context of air
2. The functional features of an air destratification fan
3. The practical effects of air destratification
4. The benefits of air destratification
3. The practical effects of air destratification
Using an air destratification fan will create a consistent temperature at every level of a room or space by continuously and completely mixing the ambient air it contains. Simply by moving warm air from ceiling level to floor level and vice versa (cold air from floor level to ceiling or roof level) improves air distribution and room temperature, thereby reducing temperature gradients or variances.
Fan installed at a height of 6 metres for destratification.
4. The benefits of air destratification
A financial benefit, with up to 30% lower heating costs. The actual level of saving will depend on a range of factors, including the preferred temperature of the room or space concerned, its ceiling height and local climate conditions.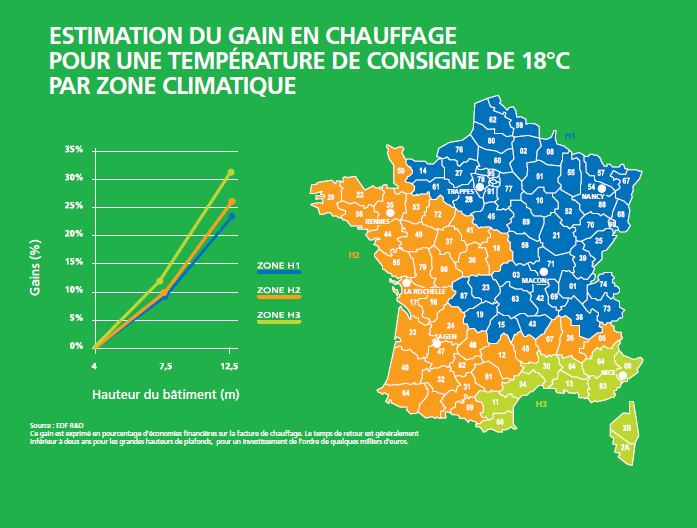 Source, EDF website
https://www.edf.fr/entreprises/le-mag/le-mag-entreprises/conseils-energie-competitivite/pourquoi-s-equiper-d-un-destratificateur-d-air
An energy saving benefit: creating a consistent ambient air temperature by destratification limits heat loss through the roof. Similarly, it also prevents overheating at floor level
An ecological benefit: using destratification to mix the ambient air delivers a potential 30% reduction in heating-related CO2 emissions.
A dehumidification benefit as a result of increasing air circulation flow rates
A better quality of life in terms of comfort: mixing the air and creating a consistent ambient air temperature within a room or space significantly increases the comfort of its occupants
The unique operating principle of the Exhale bladeless ceiling fan makes life more comfortable in summer by reducing the perceived temperature by around 4°C (sufficient to dry perspiration from the skin) and more comfortable in winter by destratifying temperature layers to create a more consistent mix of air in the room or space (including distributing the heat emitted by a stove or fireplace right around the room).
The Exhale Bladeless Ceiling Fan is designed for both trade users and homeowners.
How much does an Exhale that runs 24 hours a day cost?
Based on a kWh cost of 0.174€ (average rate of EDF – Electricity of France in 2021).
Knowing that an Exhale in speed 1 (minimum / for winter comfort), consumes only 4 Watts per hour.
Knowing that an Exhale in speed 6 (maximum / for summer comfort) consumes 50 Watts per hour.
In a month of 30 days, running 24 hours a day, it will therefore run 24 x 30 = 720h/month.
At speed

1

(winter comfort), an exhale running 24 hours a day will consume

0,5€

of electricity per month.
At speed

6

(summer comfort), an exhale running 24 hours a day will consume

6,26€

of electricity per month.
| Speed | Consumption (W/h) | Per day (€) | Per month (€) |
| --- | --- | --- | --- |
| 1 | 4 | 0,0218 | 0,655 |
| 3 | 9 | 0,04916 | 1,4748 |
| 6 | 50 | 0,27312 | 8,1936 |
We had a problem with heat distribution in the house, which has a mezzanine, a half-floor and a room at the back. Thanks to the fan, the heat is much more even and the differences between all areas of the house have been drastically reduced.
Installed in 2018 to circulate the warm air from a closed wood-burning fireplace. The Exhale ceiling fan provides even heat throughout the room.
The Exhale fan was installed and commissioned during the winter of 2019/2020 at a height of 4.50 m to resolve the temperature differences between the ground floor and upper floor. There was no disappointment with the product, which lived up to its promise by distributing heat evenly across the large living room-mezzanine area. No more temperature differences halfway up the staircase, no more feeling of cold at the bottom because the heat is very evenly distributed at a height of 4.50 m! A pleasant feeling of well-being.
We have a large S-shaped living room with a staircase leading to the first floor, and there were always big differences in temperature between the different areas. Now the heat is well distributed, and the proof is that it's no hotter at the top of the stairs than at the bottom, and that's only after 10 minutes of operation.
Mezzanine open and big problem of distribution of heating between the top and the bottom in winter and big heat in summer on the floor, the fan has completely solved the problem.